BBQ Chicken
Ben O'Donoghue
1x 1.8kg chicken Free range
1x spring onion
1x clove garlic
1x star anise
1 can beer
Glaze
¼ cup light soy
2 tbsp dark soy
2x star anise
1x cinnamon stick
6 slices ginger
½ tspn Sichuan pepper
25ml Chinese rice wine
50g sugar or glucose
½ tsp sesame oil
To make the glaze, combine the ingredients in a saucepan with 1 cup of water and simmer for 10 minutes. Remove the spices and set aside.
Hold the chicken by the neck over a bowl and use a ladle to pour the hot glaze over it. Place the chicken on a wire rack and leave to dry for 15 minutes.
Repeat this process three more times. Ensure the chicken skin is evenly coloured; it will tighten and take on a well-tanned appearance.
Place the chicken in the fridge for 3 hours before cooking, leaving it on the rack to dry out.
Heat your barbecue for indirect cooking or preheat the oven to 200°C.
Push the spring onion, garlic and star anise into the opened can of beer.
Place the can of beer in your beer-can chicken stand, then push the chicken onto the can of beer. Place the chicken and can on a tray and cook in the barbecue or oven for about 30 minutes.
Allow the barbecue to cool to 180°C degrees. This can be achieved quickly by opening the lid and turning the gas down.
The Big Green Egg allows you to close off the airflow to lower the temperature. If you're using a conventional oven, reduce the heat to 180°C. Cook the chicken for another hour.
When cooked, cover with foil and leave to rest for 30 minutes before serving.
To make a gravy, combine the juices from the chicken with a little glaze mixture and sesame oil.
For chef quality results, we recommend using Anolon cookware!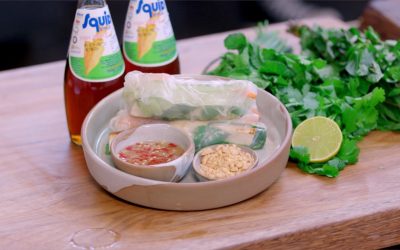 This recipe is brought to you by our friends at Asian InspirationsIngredients:Serves: 8 Prep Time: 10 mins Cook Time: 15 mins Main Ingredients: 1 packet rice paper 150g rice vermicelli noodles 1 bunch coriander 1 bunch Thai basil 1 bunch mint 1 bunch garlic chives 1⁄4...