Fasoulakia - Green Beans
Kathy Tsaples
1.5 kg green beans
3 zucchinis
3 potatoes
1 carrot
1 can of crushed tomatoes
1 tbsp tomato paste
1 small chilli, seeded and finely chopped (optional)
2 onions, chopped
1 cup of olive oil
3 cups of Massel stock
1 cup of parsley finely chopped
1 tbsp sweet paprika
Salt
Pepper
Slice the tops off the green beans and string them if necessary. Rinse and drain, keeping them in your colander for now.
Peel your potatoes and cut them into quarters.
Heat the olive oil in a large non-stick pot and sauté the onions until they are softened and almost sticky (but not burnt).
Add the tomatoes, tomato paste, parsley, two to three grinds of fresh pepper and a good amount of salt and paprika. Simmer uncovered over medium heat for around 10 minutes until the tomatoes soften and collapse.
Add the chilli, potatoes and carrots, then add the stock and put the lid on the saucepan.
When it comes to a boil, stir through the beans and then put the lid back on. Simmer for 30 minutes or until the beans are soft and the liquid has reduced.
Add the zucchini and continue to simmer. It's a good idea to stir the beans every so often. At the end of this time there should be a good amount of thickish sauce.
Turn off the heat and leave the casserole covered for a while, allowing it to absorb the flavours.
Serve hot, warm or cold.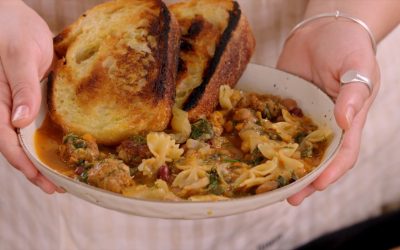 Ingredients: 4 Spicy Italian Sausages Packet of Farfalle Pasta 1 Leek 1 Carrot 1 Onion 2 Garlic 2 cups Shredded Cabbage 1 Chopped Silver Beet 1 400gm Tinned Beans 1 tsp Cumin powder 1 tsp Coriander  powder 1tsp Paprika powder 2 tbsp Tomato Paste Stock of your choice...