Mixed Berry Pancake
Ben O'Donoghue
1 cup Laucke plain flour
Pinch of salt

4 eggs
2 cups milk
40g butter
 crème fraîche
Ricotta Filling
250 g smooth ricotta
Finely grated zest of 1 lemon
Honey, to taste
Berry Sauce
2 cups frozen mixed berries
1 cup icing sugar
To Serve
Sprigs of mint,
Icing sugar, sifted
To make the crepe batter, sift the flour and salt into a large bowl. Whisk the eggs and milk together in a separate bowl. Make a well in the centre of the flour and slowly add the milk and egg mixture, whisking continuously to bring the flour and liquid together to form a smooth pouring cream consistency.
Set aside to rest for an hour or so (this can also be done the night before).
Ricotta Filling
Combine the ricotta filling ingredients. The amount of honey you use is up to you; I like it just sweet. Set aside.
Berry Sauce
Place the mixed berries and icing sugar in a small saucepan and bring to the boil. Simmer for 5 minutes, then allow to cool.
Gently heat a non-stick frying pan or crepe pan. Using a brush or some paper towel, lightly butter the surface of the pan. Add
 3 tablespoons crepe batter to the pan, quickly swirling it around to ensure a thin, even coating of batter.
Ideally, the crepe should be thin enough to see your hand through when you hold it up.
Cook the crepe on one side for 2–3 minutes, then, using a palette knife, turn it over and cook for a further 1–2 minutes. Transfer to a plate. Cook the crepes in batches, making two crepes per serve and keeping them warm under a folded tea towel.
To serve, place a spoonful of the ricotta mixture in the middle of each crepe and spread it around a little. Fold the crepes in half, then in half again and place them on serving plates. Spoon the berries and sauce over the top and finish with a dollop of crème fraîche, a sprig of mint and a dusting of icing
sugar.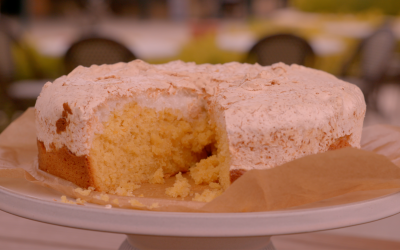 Ingredients:BASE 3 Egg Yolks 1/2 cup Caster Sugar 125g soft butter 2 cups Self-Raising flour 1 cup orange juice Vanilla   TOPPING 3 egg whites 1/2 cup caster sugar 1 cup desiccated coconut Method: Beat butter and sugar until creamy. Add yolks and vanilla. Fold in the...