Muffuletta
Ben O'Donoghue
1 cob loaf or similar loaf round or oval
Antipasti
Grilled and marinated eggplant
Grilled and peeled red peppers
Marinated Artichokes
Stuffed pepperoncini
Pitted olives
Mozzarella slices
Swiss cheese
Salami
Mortadella
Rocket
Spinach
Pesto
Cut the top off your bread about 1/3 rd of the way down. Hollow out the bottom and the top of the bread to create a cavity.
Keep the bread for bread crumbs (drying it out in a warm oven until crisp and dry)
Smother the inside top and bottom with pesto.
Layer all your antipasti ingredients in the bottom part of the bread filling it with alternative layers of the veg then the meats and cheese so that if over fills the bottom.
Place the top on the loaf and press down to close.
Wrap tightly with multiple layers of cling film to make a compact parcel and place in the fridge overnight!
To serve, cut into slices of wedges.
There's no real quantity for this recipe, it just depends on the size of your loaf of bread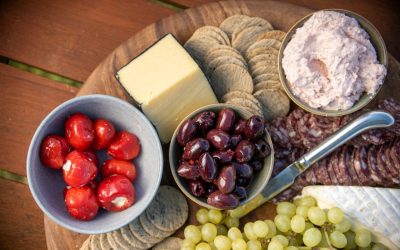 Ingredients: Hard Cheese Soft Cheese Blue Cheese 1 baguette  A bunch of Green Grapes Honeycomb Salami (sliced) Smoked Salmon Dip Artisan Crackers Beetroot dip Poppy Seed Skordalia Dip Dukkah Stuffed Bell Peppers Marinated Olives (pitted) Method: There are no rules or...