Roasted Banana Cake with Maple Butter
Kay-Lene Tan
Roasted bananas 300g
Vanilla 1g
Butter 112g
Brown sugar 250g
Eggs 100g
Flour 275g
Baking powder 10g
Sea salt 5g
Whipped Maple Butter
Unsalted butter 250g
Maple syrup 80g
Sea salt 3g
Spread vanilla onto bananas, and roast in an oven at 180⁰c for 10 minutes or until banana skins are black. Allow to cool slightly.
Weigh flour, baking powder and sea salt into a bowl.
Weigh butter and brown sugar in a mixing bowl. Cream with a paddle until fluffy.
Gradually add eggs, and roasted bananas into butter mixture. Emulsify.
Slowly add in dry ingredients. Mix well.
Pour into a baking tin lined with baking paper.
Bake at 170⁰c for about 20 minutes. Use a skewer to check if it is baked.
Whipped Maple Butter
Soften butter in the microwave, but not until melted.
Put butter into a mixing bowl with the whisk attachment. Add in maple syrup and sea salt.
Whisk until fluffy.
For chef quality results, we recommend using Anolon cookware!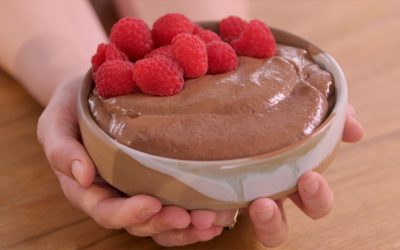 Ingredients: Plant-based milk Chia seeds Cacao powder Maple syrup Vanilla extract or paste Method: Combine all of the ingredients in a high-speed blender and blend until smooth. If you prefer to eat the seeds whole, you can skip the blender and combine the ingredients...