Slow Cooked Beef
Kathy Tsaples
1 1⁄2 kg round steak, cleaned and cut into cubes
3 cans of roma tomatoes, crushed by hand
1 onion, finely diced
2-3 cloves of garlic
1⁄2 cup of olive oil, plus an additional 2 tbsp
1tbsp red wine vinegar
1L water or chicken stock (optional)
1tbsp tomato paste
1tsp sweet paprika
A pinch of cinnamon
A few basil leaves
1 bay leaf
1tsp sugar
1tsp cooking salt
1tsp pepper
In a heavy-based wide casserole dish, brown your meat a little at a time so that it doesn't stew.
Once all the meat has browned, add the onion and the garlic cloves. Stir a few times.
Add the tomato paste and sweet paprika, and cook for a few minutes.
Add the canned tomatoes, sugar, salt, pepper, cinnamon and bay leaf as well as the half cup of olive oil.
Add 1 litre of water or chicken stock if you like, close the lid, and simmer gently for about 1 hour. Check every so often and stir.
The liquid will evaporate, leaving a lusciously thick tomato sauce. The meat should be soft and melt in your mouth. If the meat needs more cooking, just add a little more water and continue to simmer. In the final 15 minutes, add the 2 tablespoons of oil, basil leaves and red wine vinegar.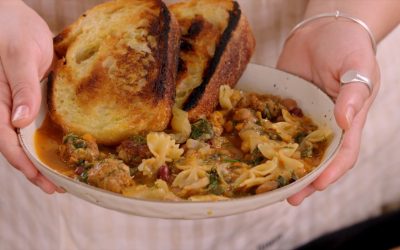 Ingredients: 4 Spicy Italian Sausages Packet of Farfalle Pasta 1 Leek 1 Carrot 1 Onion 2 Garlic 2 cups Shredded Cabbage 1 Chopped Silver Beet 1 400gm Tinned Beans 1 tsp Cumin powder 1 tsp Coriander  powder 1tsp Paprika powder 2 tbsp Tomato Paste Stock of your choice...