Beef Pattie
250g Beef brisket
250g Beef chuck
100g Beef Fat
125g Minced onion
25ml Veg Oil
Cheese Emulsion
125g Butter, unsalted
50g Cheddar cheese
25ml Egg yolk
5ml White wine vinegar
Cayenne pepper, to taste
Minced Onion
1 tbsp Extra virgin olive oil
80g Onion
To Serve
Milk bun
1 Tomato
Pickled Cucumber
Iceberg lettuce
American mustard
Mayonnaise
Beef Pattie
Slowly sweat down your diced onions over a medium heat and cook until golden brown and sugars have released.
Dice all your meat and fat into rough cubes that will fit through your mincer easily
Layout cling film on your bench with a few overlapping layers ready for your mince in a minute
Set up your mincer and add all ingredients collecting your mince as it comes out and laying it on the cling film you set up earlier. Build up the meat in layers almost like you are rebuilding a sausage
Once all the meat is minced roll the mix in the clingfilm nice and tightly like a sausage. Tie of the ends and put in the fridge to firm up for a couple of hours before cutting into privatepatties
Cheese Emulsion
Add your egg yolk and vinegar to the thermomix and blend until sabayon stage.
Clarify your butter and grate your cheese and put to one side.
Take your egg mix from the thermo and place in a metal bowl. Pour your clarified butter into the mix slowly giving it a chance to combine.
Add your cheese right at the end and season with the whey from the butter and cayenne pepper.
Minced Onion
1. Slowly sweat down your diced onions over a medium heat and cook until golden brown and sugars have released
To Serve
Grill your burger on your griddle top, whilst toasting your buns on the grill too
Place your bacon jam on the base of the bun and your burger on top.
Cover with cheese, pickled cucumbers, pickled onion and lettuce, cover with lid and serve
Our friends at Wine Selectors suggest pairing this dish with a Young Tempranillo.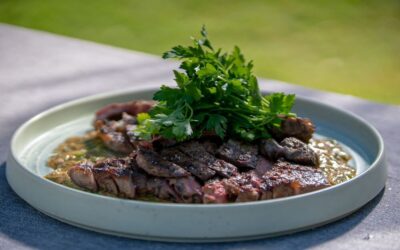 Ingredients: Serves: 2-4 2 x 250g T-bone or Rump steak Sea salt 2 Tbsp Olive oil 2 Tbsp Butter 1 brown onion, diced 2-3 cloves garlic, finely chopped 1 tsp dried chilli flakes 2 tsp dried mixed herbs 40 'twists' cracked black pepper 2 chicken stock cubes, crumbled 2-3...