Spanner Crab Fried Rice
Matt Sinclair
Serves 2-4
1/4 cup vegetable oil
1 large brown onion, diced
5 cloves garlic, finely chopped
3 eggs, lightly whisked
4 cups cooked rice (day old)
1 tsp salt
1 tsp chicken stock powder
1/2 tbsp sugar
1/2 tsp white pepper
300g Spanner crab meat
3 spring onions, finely sliced
3 tbsp coriander stems and leaves, finely chopped
Heat oil over a medium heat in a wok or deep frypan. Cook onion and garlic for 3-4 minutes or until golden and softened.
Add the eggs and spread around the pan, allow them to sit for a moment before mixing through to scramble. Add the crab meat and toss through for 1 minute.
Add the cooked rice and toss to combine well. Season with the salt, stock powder, sugar and pepper. Stir-fry until well incorporated. Taste and adjust seasoning if required.
Lastly, toss through the spring onion and coriander before removing from the heat. Divide into portions and garnish with fresh coriander.
Our friends at Wine Selectors suggest pairing this dish with a Rose.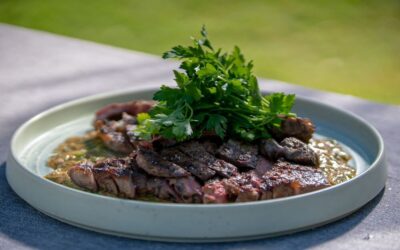 Ingredients: Serves: 2-4 2 x 250g T-bone or Rump steak Sea salt 2 Tbsp Olive oil 2 Tbsp Butter 1 brown onion, diced 2-3 cloves garlic, finely chopped 1 tsp dried chilli flakes 2 tsp dried mixed herbs 40 'twists' cracked black pepper 2 chicken stock cubes, crumbled 2-3...