Steak with Blue Cheese and Hazelnuts
Ben O'Donoghue
Ribeye steak
Salt
Pepper
100g butter, softened
1 orange, zest
1 tsp thyme
50g hazelnuts, roasted
80g Blue cheese
Liberally season your steak with salt and pepper and cook to your liking, turning regularly. Rest for half of the cook time.
Combine butter, orange zest, thyme and mix together until all ingredients are distributed evenly. Then crumble blue cheese and stir to combine.
Roll compound butter into some glad wrap, into a cylinder shape and refrigerate until hard.
Cut disks of butter and serve on top of steak.
Our friends at Wine Selectors suggest pairing this dish with a Robert Stein Rosé 2019 or Montrose Black Shiraz 2018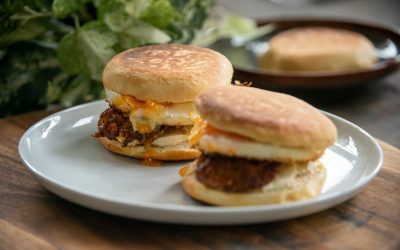 Ingredients: 300ml milk, plus extra 7g sachet of dried yeast 25g white caster sugar 50g shortening or lard 425g plain flour, plus extra 20g polenta, optional Unsalted butter Method: Gently warm the milk in a pan until lukewarm or body temperature, 37ºC. Add the yeast...