Welsh Rarebit
Matt Sinclair
4-6 large slices thick-cut sourdough
2 Tbsp. butter
2 Tbsp. plain flour
250ml Pale Ale
1 heaped tsp. mustard powder
1 tsp. chilli powder
1 ½ Tbsp. Worcestershire sauce, plus extra
150gm Vintage cheddar, grated
1 egg yolk 
2 Tbsp. fresh parsley leaves, finely chopped
Preheat the grill to 220C. Line a baking tray with greaseproof paper.
Place a small saucepan over a low heat and melt butter until lightly bubbling. Sprinkle in the flour and whisk to combine. Cook for approximately 2 minutes, whisking continuously to avoid burning. Gradually pour in the beer, whisking after each addition until the sauce is thick and smooth. Add mustard, chilli and Worcestershire and stir through. Finally, add in cheddar and whisk until the cheese has melted and the sauce is thick and smooth. 
Remove from heat and cool slightly. Add in the egg yolk and gently whisk through. Taste and adjust seasoning if required.
Meanwhile, toast the bread slices and butter on one side. Place buttered-side up onto the prepared baking tray. Spoon over cheese mixture and spread to the edges of the toasted bread. Place under the grill for 1-2 minutes or until brown and bubbly.
Garnish with parsley and an extra drizzle of Worcestershire sauce.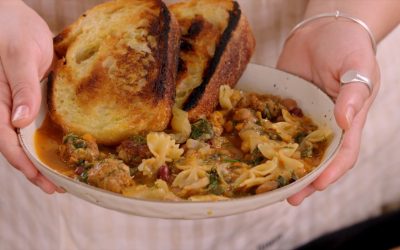 Ingredients: 4 Spicy Italian Sausages Packet of Farfalle Pasta 1 Leek 1 Carrot 1 Onion 2 Garlic 2 cups Shredded Cabbage 1 Chopped Silver Beet 1 400gm Tinned Beans 1 tsp Cumin powder 1 tsp Coriander  powder 1tsp Paprika powder 2 tbsp Tomato Paste Stock of your choice...