Gnocchi Bake with Black Olives and Cherry Tomatoes
Matt Sinclair
Serves 4
500g store-bought gnocchi
150g buffalo mozzarella
1/3 cup grated parmesan
Cherry Tomato Sauce
3 Tbsp Extra Virgin Olive oil
1 red onion, finely chopped
3 anchovy fillets, finely chopped
2 cloves garlic, crushed
100g pitted black olives
1 Tbsp tomato paste
1/2 cup vegetable stock
1 x 400gm can cherry tomatoes
1/2 cup picked basil leaves, finely chopped, plus extra
1/2 cup parsley, finely chopped, plus extra
Prepare the cherry tomato sauce first: Add the oil to a deep frypan and place over a medium-high heat. Saute the onion for 3-4 minutes until slightly translucent. Add the anchovies and garlic, stir through to combine and cook for a further 3-4 minutes until the anchovies have broken down. Add the olives and tomato paste and stir though.
When the sauce starts to stick slightly after a minute or so, add the stock to deglaze the pan. Scrape the bottom to release the flavour into the sauce. Add the cherry tomatoes, bring to the boil and then reduce to a simmer.
Cook the sauce for at least 30 minutes or until thickened, stirring often. Stir through the herbs and season to taste with sea salt and cracked pepper.
Preheat the oven to 220C.
Bring a large pot of salted water to the boil and cook the gnocchi in batches. They will be cooked when they have floated to the top. Strain well and pour into the base of an ovenproof baking dish.
Top with sauce and mix to coat. Tear up the mozzarella and dot over the top of the gnocchi. Top with parmesan. Place in the oven for 15-20 minutes until golden and melted.
Remove to cool slightly and garnish with extra basil and parsley before serving.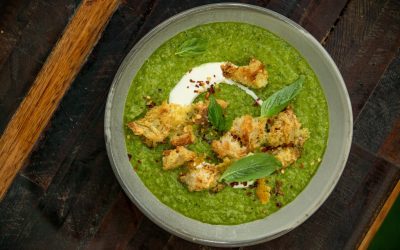 Ingredients: 2 heads broccoli 1 large leek, halved lengthwise, rinsed 2 tbsp extra virgin olive oil 1 head garlic, unpeeled 4 cups (1L) chicken or vegetable stock 120g baby spinach leaves 125g sour cream, plus extra to serve Chilli flakes & herbs, such as basil,...