Pickled Green Tomatoes
Matt Sinclair
2kg green tomatoes, cut into 5mm slices
200g salt
200ml white wine vinegar
1 Tbsp dried oregano
2-3 garlic cloves, sliced
1 long red chilli, chopped
Extra Virgin Olive Oil
Place the green tomatoes in a plastic tub and cover and coat evenly with the salt. Place a plate or board on top of the tomatoes and weigh down with about 5kg. Set aside for 24 hours.
Remove the weight, drain off any liquid and rinse off any excess salt. Return the tomatoes to the tub and cover with vinegar, mix well before placing the plate/board and weight on top again and leave for a further 24 hours.
Remove the weight and drain off the liquid again. Squeeze the tomato with your hands to remove any excess liquid. Return the tomato to the tub and season with oregano, garlic and chill and lightly coat with olive oil. Mix to combine well.
Divide and tightly pack the tomatoes into clean jars, cover with extra virgin olive oil and ensure the tomatoes are fully submerged. Seal the jar and leave in a cool space for about 1 week, check and top up with extra oil, if needed. Leave the jars in a cool, dry place for another 4-6 weeks before they are ready. Tomatoes will keep for up to 1 year unopened, or 1 month, refrigerated once opened.
Our friends at Wine Selectors suggest pairing this dish with a Pinot Grigio.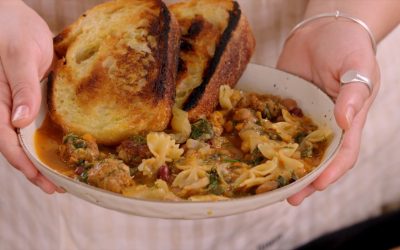 Ingredients: 4 Spicy Italian Sausages Packet of Farfalle Pasta 1 Leek 1 Carrot 1 Onion 2 Garlic 2 cups Shredded Cabbage 1 Chopped Silver Beet 1 400gm Tinned Beans 1 tsp Cumin powder 1 tsp Coriander  powder 1tsp Paprika powder 2 tbsp Tomato Paste Stock of your choice...