Peanut Caramel Chocolate Tart
Khanh Ong
Base
2 packets of Oreos
¼ cup + 1 tbsp of melted butter
1 pinch of salt
Filling
½ cup butter melted
Cup brown sugar
1 can condensed milk
¼ cup of cream
1 tsp salt
1 cup crunchy peanut butter (or smooth)
Topping
150g milk chocolate chips
50ml cream
2 tbsp smooth peanut butter
1 pinch of salt
Cup of roughly chopped peanuts
Preheat oven to 160C fan-force
To make the base
Blitz oreos until fine then add butter and salt.
Pack into a 23cm tart tin lined.
To make the tart filling;
Melt butter in a medium pan
Add brown sugar
Once bubbling add condensed milk and cream then turn off the heat
Stir in the salt and peanut butter
Pour caramel into the oreo base and back for roughly 15 minutes at 160C
Leave to cool for 30 mins after removing from oven.
Microwave choc chips, cream, peanut butter and salt for 2 x 30 second burst to melt.
Stir to combine and then pour over cooled tart.
Top with peanuts and set into fridge for 90-120mins.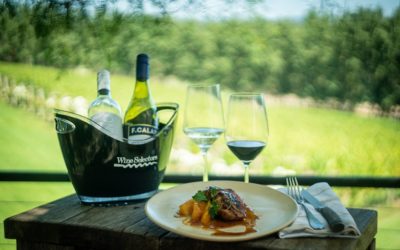 Ingredients: 4 duck breast 1 tablspoon brown sugar ½ tablespoon salt ¼ bunch thyme 1 tsp five spice butter garlic Sauce 1/3 cup sugar 1/3 cup fresh orange juice (from 1 to 2 oranges) segments of one orange 2 tablespoons white-wine vinegar 1/8 teaspoon salt 2 to 4...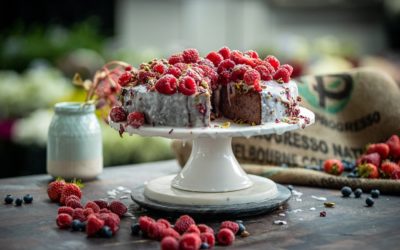 Ingredients: Cake 200g Fresh or frozen raspberries 12 eggs 500g Caster sugar 500g Almond Meal, plus extra 2tsp baking powder ¼ tsp salt Icing 2 cups icing sugar 2 tbsp lemon juice, strained Garnish 2tbsp Rose petals 2tbsp Pistachios Handful of fresh raspberries...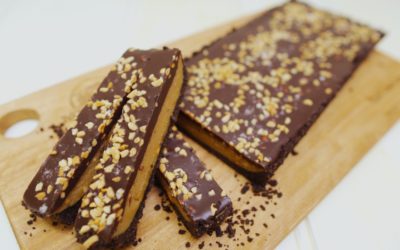 Ingredients: Base2 packets of Oreos¼ cup + 1 tbsp of melted butter1 pinch of saltFilling½ cup butter meltedCup brown sugar1 can condensed milk¼ cup of cream1 tsp salt1 cup crunchy peanut butter (or smooth)Topping150g milk chocolate chips50ml cream2 tbsp smooth peanut...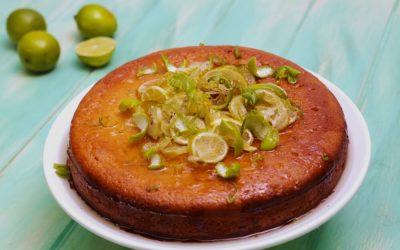 Ingredients: 3 eggs 225g caster sugar Juice and zest of 3 limes 300g self-raising flour sifted 275g Jalna Greek yoghurt 125ml of grapeseed oil/veg oil (any neutral tasting oil) Lime Syrup: 3 limes peeled into thick strips 130g caster sugar 75ml lime juice Method: Beat...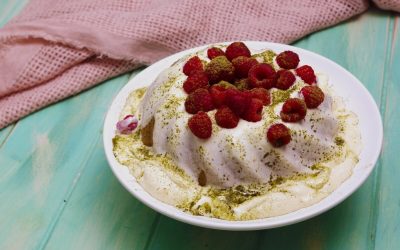 Ingredients: 1 tbsp matcha powder1 tsp of baking powder2⁄3 cups of cake flour3 large eggs separated1⁄2 cup of caster sugar3 tbsp veg oil4 tbsp waterWhite Chocolate Ganache:1 cup of thicken cream150g white chocolateGarnish:Raspberries Method: Sift the matcha powder,...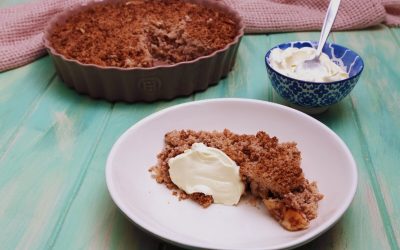 Ingredients: Crust/ pastry150g Almond meal / flour50g Tapioca flour or Buckwheat flour50g Flax meal50g Xylitol,5g / 1tsp Salt100g Coconut oil / Grass-fed butter / GheeUp to 50g Cold waterFilling1kg Green apples, peeled, cored and into 5mm slices50g Lemon juice50g...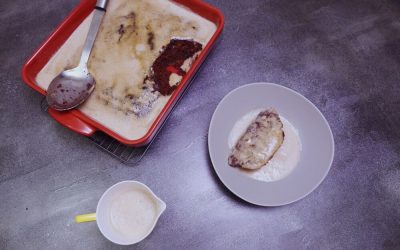 Ingredients: 250g Pitted Dates250g Boiling Water100g Buckwheat Flour200g Almond Meal25g Raw Cacao Powder1 tsp Vanilla/ vanilla bean, seeds scraped1 tsp BiCarb Soda150g Coconut Oil100g Sugar free dark chocolate, stevia sweetened, roughly chopped4 eggs, lightly...