Peanut Caramel Chocolate Tart
Khanh Ong
Base
2 packets of Oreos
¼ cup + 1 tbsp of melted butter
1 pinch of salt
Filling
½ cup butter melted
Cup brown sugar
1 can condensed milk
¼ cup of cream
1 tsp salt
1 cup crunchy peanut butter (or smooth)
Topping
150g milk chocolate chips
50ml cream
2 tbsp smooth peanut butter
1 pinch of salt
Cup of roughly chopped peanuts
Preheat oven to 160C fan-force
To make the base
Blitz oreos until fine then add butter and salt.
Pack into a 23cm tart tin lined.
To make the tart filling;
Melt butter in a medium pan
Add brown sugar
Once bubbling add condensed milk and cream then turn off the heat
Stir in the salt and peanut butter
Pour caramel into the oreo base and back for roughly 15 minutes at 160C
Leave to cool for 30 mins after removing from oven.
Microwave choc chips, cream, peanut butter and salt for 2 x 30 second burst to melt.
Stir to combine and then pour over cooled tart.
Top with peanuts and set into fridge for 90-120mins.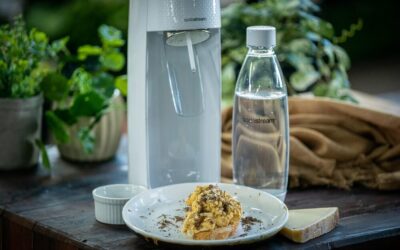 Ingredients: Serves 4 12 eggs, best quality you can afford 150ml sparkling water 2 tablespoons freshly grated parmesan Sea salt and freshly cracked pepper 20g butter 4 thick slices of sourdough, toasted/charred Method: Mix together the eggs, sparkling water, parmesan...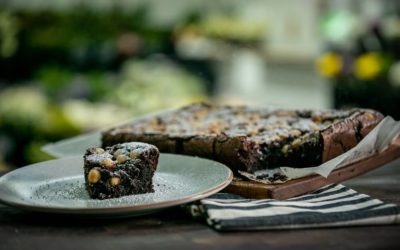 Ingredients: Makes 28 portions 12 eggs 800gm 900gm caster sugar 675gm 68% Madagascar chocolate 675gm-unsalted butter 225gm ground macadamia meal 225gm cocoa powder 300gm macadamia nuts Method: Preheat oven to 150 degrees Grease and line sponge tray with parchment...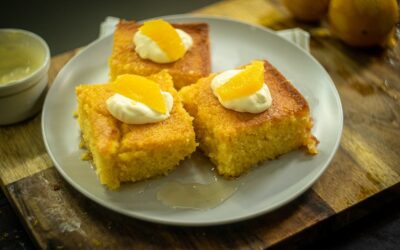 Ingredients: 1 cup semolina 1 cup almonds, blanched, toasted and roughly chopped 2 cups self raising flour, sifted 2 tsp baking powder Rind of 1 lemon 6 eggs 250g butter at room temp Juice of 2 oranges 2 tbsp cognac or brandy 1 cup of caster. Sugar Shredded coconut as...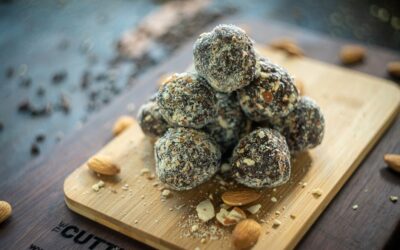 Ingredients: Makes 12 ¾ cup Australian almonds 1/3 cup rolled oats 2 tbsp cacao powder ½ tsp vanilla extract 12 medjool dates 3 tbsp cacao nibs 1 tbsp Australian almond oil Method: In a food processor blend ¼ cup of the almonds until they are crushed lightly but not...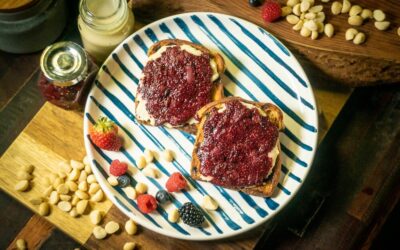 Ingredients: Makes 2 small jars of jam and nut butter Jam ¼ cup fresh Australian raspberries ¼ cup fresh Australian blackberries ¼ cup fresh Australian strawberries ¼ cup fresh Australian blueberries ¼ cup fresh Australian red seedless grapes Splash Water ¼ cup chia...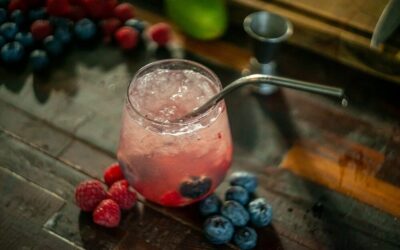 Ingredients: Serves two 1/2 cup very cold vodka Juice of two limes 2 tablespoons sugar syrup 1/2 cup fresh raspberries 1/2 cup blueberries Approx 500ml sparkling water Ice Method: Bring together the vodka, lime juice, sugar syrup, raspberries, blueberries and...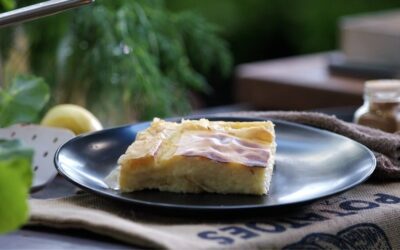 Ingredients: 8 egg yolks 1 tsp vanilla extract 3 cups white sugar 3 litres of milk Pinch of salt 120g butter 2 cups semolina 15 sheets of fillo pastry 150g butter melted (approx.) Icing sugar + cinnamon to serve Method: Separate egg yolks from whites Add vanilla...