Peanut Caramel Chocolate Tart
Khanh Ong
Base
2 packets of Oreos
¼ cup + 1 tbsp of melted butter
1 pinch of salt
Filling
½ cup butter melted
Cup brown sugar
1 can condensed milk
¼ cup of cream
1 tsp salt
1 cup crunchy peanut butter (or smooth)
Topping
150g milk chocolate chips
50ml cream
2 tbsp smooth peanut butter
1 pinch of salt
Cup of roughly chopped peanuts
Preheat oven to 160C fan-force
To make the base
Blitz oreos until fine then add butter and salt.
Pack into a 23cm tart tin lined.
To make the tart filling;
Melt butter in a medium pan
Add brown sugar
Once bubbling add condensed milk and cream then turn off the heat
Stir in the salt and peanut butter
Pour caramel into the oreo base and back for roughly 15 minutes at 160C
Leave to cool for 30 mins after removing from oven.
Microwave choc chips, cream, peanut butter and salt for 2 x 30 second burst to melt.
Stir to combine and then pour over cooled tart.
Top with peanuts and set into fridge for 90-120mins.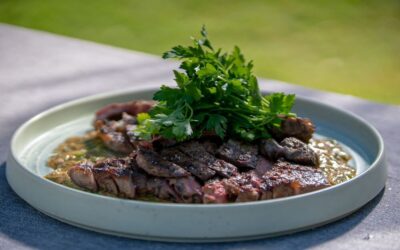 Ingredients: Serves: 2-4 2 x 250g T-bone or Rump steak Sea salt 2 Tbsp Olive oil 2 Tbsp Butter 1 brown onion, diced 2-3 cloves garlic, finely chopped 1 tsp dried chilli flakes 2 tsp dried mixed herbs 40 'twists' cracked black pepper 2 chicken stock cubes, crumbled 2-3...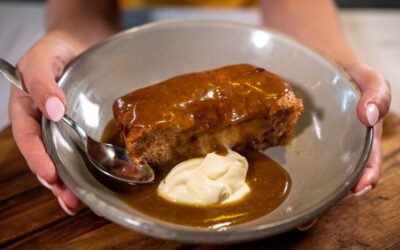 Ingredients: 185 g dates 1 cup water 60g butter 2 eggs 185g self raising flour 185g sugar 1tsp baking powder ½ tsp vanilla paste Butterscotch Sauce: 1 cup cream ¾ cup brown sugar 2 tbsp butter Pinch of salt Method: Bring the dates and water to a boil, then remove from...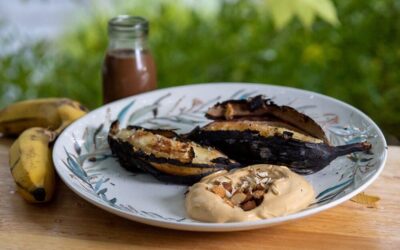 Ingredients: 4 Lady Finger Bananas Woodchips for smoking in a fire or hibachi Dulce De Leche Creme: 2 Tbsp Dulce de leche 200ml Cream Chocolate Sauce: 150ml full-fat milk 150ml double cream 300g dark chocolate, broken into pieces 1 tsp vanilla extract To Serve: 1 tbsp...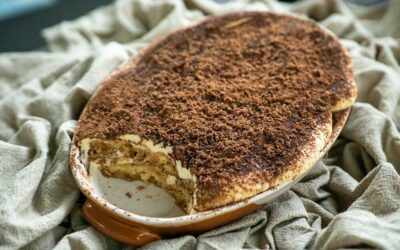 Ingredients: 3 eggs, separated 6 tbsp caster sugar 500 g mascarpone cream 500ml espresso coffee 80ml marsala 500g savoiardi biscotti ( 1 large packet ) Dark chocolate, to grate Cocoa powder, to dust Method: Beat the egg yolks and half the sugar in a bowl for 5 minutes...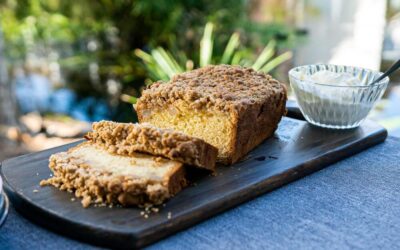 Ingredients: 1 pear, peeled and cored, diced 1 tsp ground cinnamon 125g unsalted butter ½ cup caster sugar 2 eggs 1 ½ cups plain flour 1 tsp baking powder Salt Streusal Crumb: 40g unsalted butter, chilled, diced 1/3 cup plain flour 2 Tbsp caster sugar Salt Method:...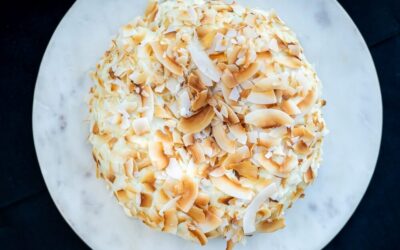 Ingredients: 2 eggs 1 cup sugar ¾ cup vegetable oil 1 tsp vanilla essence 2 cups grated carrot 1 ¼ cups plain flour 1 tsp baking soda 2-3 tsp cinnamon 2-3 tsp mixed spice ½ tsp salt Lime Cream Cheese: 200g cream cheese, room temperature 1 ½ cups icing sugar, sifted...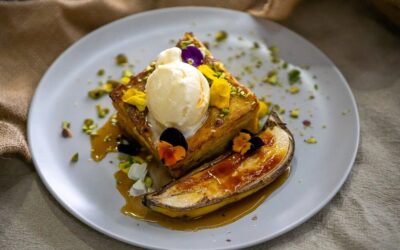 Ingredients: Serves: 4 ¼ cup Nutella 8 thick slices of brioche 3 eggs ¼ cup milk 1 vanilla bean, scraped 40g butter 2 lady finger bananas 2 Tablespoons caster sugar 160g unsalted butter ¼ cup pistachios, chopped ¼ cup maple syrup Edible flowers to garnish Ice cream to...