Tortilla Pie
Simone Austin
Serves 1-2
2 Burrito/Tortilla wraps
2 large eggs
Handful baby spinach leaves
1 slice ham, chopped roughly
2 rings of capsicum, chopped finely
2 scoops Ensure Vanilla powder
2 tablespoons water
2 teaspoons extra virgin olive oil
1/4 cup grated tasty cheese
Sriracha sauce (or other hot sauce)
Pinch salt and pepper
Preheat the oven to 180degrees celsius.
Grease a shallow ovenproof dish a little smaller than the size of the tortilla wrap and lay it inside so the edges come halfway up the side .
Scatter the ham, spinach and capsicum evenly over the bottom.
Crack the eggs in a small dish, whisk and sprinkle with a little salt and pepper
Add the Ensure milk mix to the eggs and best
Pour the egg mixture into the dish.
Top with half of the cheese
Brush the second tortilla with oil and place oil side up over the mix pressing the edges together.
Brush the edges with oil and top with remaining cheese.
Drizzle a little hot sauce on top and bake for 15minutes until the edges of the tortilla crust are crisp and browned. Eat immediately and enjoy!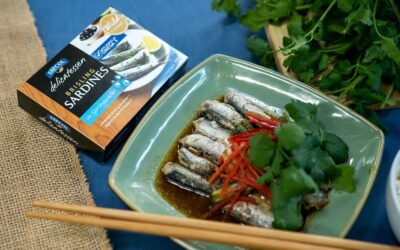 Ingredients: 110g Safcol Sardines in Springwater, drained 2 tbsp oil 1 clove garlic, sliced 2 slices ginger, julienned 2 spring onions, cut to 2cm lengths 1 tbsp brandy (you may substitute this with Chinese cooking wine) 2 tsp black bean sauce (available in the Asian...