15 Minute Udon Noodles
Khanh Ong
200g packet of udon noodles

1 tsp  sesame oil

2 tbsp veg oil

2 cloves of garlic smashed

1 small piece of ginger julienned

2 spring onions slice and white and green part separated

1 tbsp sesame seeds

200g pork mince

1⁄2 a cup of Chinese cabbage shredded

2 tbsp soy sauce

1⁄2 tbsp ABC Kecap Manis

1 tsp chilli flakes

A pinch of salt
Boil water, drop in the udon noodles and then using chopsticks wiggle until the noodles separate. drain and then cover noodles with sesame oil.

In a wok add veg oil, garlic, ginger and spring onion whites, fry for 15 seconds then add sesame seeds and cook for a further 30 seconds.

Add the pork in the middle of the wok and cook for a minute or two.

Add the cabbage and cook for 30 seconds, add the rest of the ingredients.

Serve with extra sesame seeds on top and green part of the spring onions.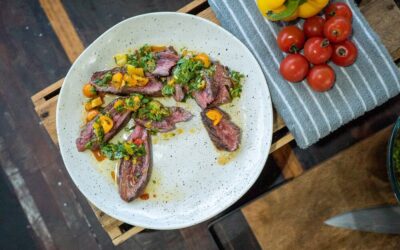 Ingredients: Serves: 4 800g Hanger Steak Sea Salt 1 small yellow pepper, seeds removed, roughly chopped 6 Yellow baby Tomatoes 1 small red chilli, seeds removed ½ tsp dried flaked chillies 2 Garlic cloves, peeled 20g fresh parsley, including any tender stalks 10g each...