4 Ingredient Pizza Dough
Matt Sinclair
300gm self-raising flour
200gm Greek yoghurt
20ml Extra Virgin Olive Oil
Salt
1 Tbsp semolina
Toppings:
Option 1:
Pizza sauce
Fresh mozzarella, sliced
100gm Shaved mortadella
¼ red onion, thinly sliced
Option 2:
Pizza sauce
Zucchini, thinly sliced
Smoked ham of the bone
Fresh mozzarella, sliced
Fresh rocket
Preheat the oven to 250C.
Place the flour, yoghurt and olive oil in the bowl of a stand mixer and season with a pinch of salt. Mix on a low speed with a dough hook attachment until incorporated, increase to a medium speed for about 4-5 minutes until combined. Dough should be nice and elastic. Portion into 100gm balls and set aside to rest for about 10 minutes.
Flip the dry side of each ball of dough and use it as the bottom of the pizza base. Sprinkle the dough with a bit of flour, press it out to make a rough circle and then gently stretch the dough to roughly a 6-inch round, leaving the outer edge a little thicker than the centre.
Sprinkle a small amount of semolina on a baking tray and lay out the pizza base. Spread a little sauce over the base, followed by some sliced or grated cheese, add your desired toppings and finish a little more cheese on top.
Place in the oven for 7-8 minutes or until golden and cheese is beautifully melted and golden. Top with fresh ingredients before serving.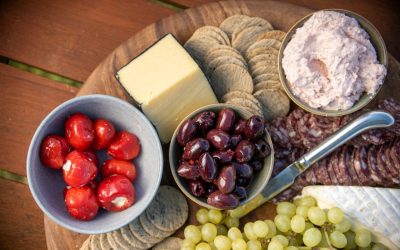 Ingredients: Hard Cheese Soft Cheese Blue Cheese 1 baguette  A bunch of Green Grapes Honeycomb Salami (sliced) Smoked Salmon Dip Artisan Crackers Beetroot dip Poppy Seed Skordalia Dip Dukkah Stuffed Bell Peppers Marinated Olives (pitted) Method: There are no rules or...