BBQ Baby Snapper with Almond Cream
Matt Sinclair
Serves: 6
3/4 cups apple cider vinegar
1 Tbsp sugar
1 small red onion, thinly sliced
1 fennel bulb, thinly sliced (mandolin)
1/2 bunch Dill, plus extra
2 Tbsp Extra Virgin Olive Oil
1 Lemon, thinly sliced
2 baby snapper*, gutted
Almond Cream: 
250 gm blanched almonds
500 ml water
1 clove garlic, crushed
Juice of 1 lemon
Pinch sea salt
100ml Extra Virgin Olive Oil
Pre-prepare almond cream by adding the almonds, water, garlic, lemon and salt to a blender and blitz to combine. Gradually add the olive oil while still blending and mix until emulsified. Taste and adjust seasoning with salt and lemon. Refrigerate in a sealed container until required.
Combine the vinegar and sugar in a bowl and stir until sugar has dissolved. Add half of the fennel, dill and red onion and immerse in liquid. Set aside.
Gently score the skin of the fish on either side. Fill the cavities with remaining fennel, onion and half of the lemon slices. Drizzle fish with olive oil and season well with sea salt.
Heat a BBQ or griddle pan on medium-high. Cook the fish for approximately 8 minutes on each slide until flesh is opaque and skin is nicely charred. BBQ the remaining lemon slices for about a minute each side to caramelise.
Remove the fish to a tray and allow it to rest for 8-10 minutes. To serve, spread a good amount of almond cream on the base of a platter, lay the fish over the cream and garnish with the caramelised lemon slices, pickled fennel and onion and extra dill fronds.
Our friends at Wine Selectors suggest pairing this dish with a Semillon.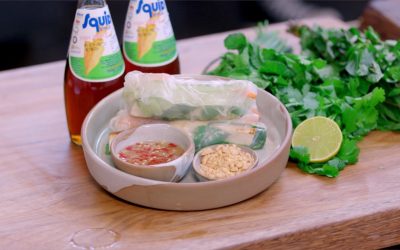 This recipe is brought to you by our friends at Asian InspirationsIngredients:Serves: 8 Prep Time: 10 mins Cook Time: 15 mins Main Ingredients: 1 packet rice paper 150g rice vermicelli noodles 1 bunch coriander 1 bunch Thai basil 1 bunch mint 1 bunch garlic chives 1⁄4...