Beer Battered Fish with Garlic and Dill Mayo
Matt Sinclair
1 ½ cups self-raising flour, plus extra
375ml bottle of lager beer, cold
4 x fillets white fish, portioned into thick strips eg. Flathead/snapper/red emperor
Sea Salt
Deep fryer/pot of vegetable oil
Garlic Dill Mayo:
½ cup garlic Dip (Yumi brand preferred)
½ cup Kewpie mayonnaise
½ bunch Fresh Dill, finely chopped
½ bunch Fresh Italian Parsley, finely chopped
Lemon juice
In a large bowl, add the self-raising flour and pour the beer in slowly, mixing it with a fork as you go. Avoid over mixing, small lumps are ok. Chill in the fridge for 15 minutes which will help activate the batter.
Combine the garlic dip, mayonnaise and herbs in a bowl and mix to combine. Season to taste with lemon juice if required.
Heat oil to 180C.
Pat the fish fillets dry with a paper towel before dusting with a bit of flour. Shake off any excess and transfer to the chilled batter. Dredge the fish and allow any batter to drip off before adding to the fryer. Fry the fish for 4-5 minutes until golden brown and crunchy, turning during cooking if required. Drain and transfer onto a wire rack and season well with sea salt. *Cook the fish in batches to avoid overcrowding in the fryer and keep warm in a low temperature oven while you cook the rest.
Serve with fresh lemon wedges and the garlic-dill dipping sauce on the side.
Our friends at Wine Selectors suggest pairing this dish with a Riesling.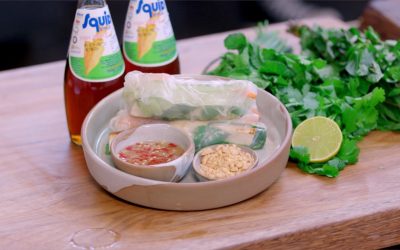 This recipe is brought to you by our friends at Asian InspirationsIngredients:Serves: 8 Prep Time: 10 mins Cook Time: 15 mins Main Ingredients: 1 packet rice paper 150g rice vermicelli noodles 1 bunch coriander 1 bunch Thai basil 1 bunch mint 1 bunch garlic chives 1⁄4...