Bitter Lovers Salad
Khanh Ong
2 blood oranges
Juice of 1 blood orange
25 ml lemon juice
60ml maple syrup
1⁄2 tsp orange blossom water
Salad:
1⁄2 a radicchio
1 small red endive
1 tbsp EVOO
150g of strawberries sliced
175g ricotta
30g roasted pine nuts
75g pomegranate seeds
Salt and generous black pepper to season
Segment the oranges and set aside, squeeze the left over membrane into a small pan.
Add the rest of the ingredients and simmer for 15-20 minutes until 1⁄4 cup of thick syrup is left over.
Salad:
Tear the radicchio leaves into large pieces and place in a mixing bowl
Add endive leaves, oil, strawberries and some salt and pepper.
Toss well then divide into two serving bowls. place some of the reserved blood range segments around, some ricotta and finish with the syrup than aff nuts and pomegranate seeds.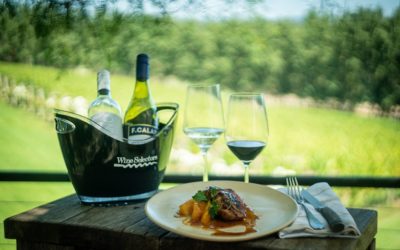 Ingredients: 4 duck breast 1 tablspoon brown sugar ½ tablespoon salt ¼ bunch thyme 1 tsp five spice butter garlic Sauce 1/3 cup sugar 1/3 cup fresh orange juice (from 1 to 2 oranges) segments of one orange 2 tablespoons white-wine vinegar 1/8 teaspoon salt 2 to 4...