Black Pepper Kanagroo
Ben O'Donoghue
500g kangaroo sirloin cut into thin strips
2 tablespoons cornflour
2 tablespoon sunflower oil for frying
2 green capsicums – cut into strips
2 bunch of broccolini – bottom end removed and cut in half
1 bunch green onions – green and whites finely chopped
4 bulbs spring onions – onion part only
Black Pepper Sauce
40ml Ketchup Manis
40ml Oyster sauce
40mls light soy sauce
20gm ginger
20gm garlic
10gm red chilli
3 Spring onions Whites and green finely slice
10gm Dried shrimps soaked in hot water
10gm Cracked black pepper
2gms curry leaves or 1/4 cup
1 tablespoon chopped coriander 50gm butter
Combine the Ketchup Manis, oyster sauce, soy in a small bowl. Pound the garlic, ginger, soaked shrimp and chilli in a and pestle mortar or a food processor to a smooth paste. Add the cracked pepper. Heat the sunflower oil in a wok. Fry the curry leaves and then fry the white spring onions and spice paste until fragrant. Add the soy mix and bring to the boil, add the butter and whisk together.
Toss the kangaroo in the cornflour to coat and season with salt and pepper
Heat the one tablespoon of oil in a wok to high and quickly sear the kangaroo in 2 batches, then remove and wipe the pan out for the vegetables.
Again heat the oil and wok to high and add the onion bulbs with a splash of chicken stock to get them cooking. Next, add broccoli and stir fry for 2 minutes before adding the capsicums.
When the vegetables are wilting add the cooked kangaroo back to the wok and stir in 3 tablespoons black pepper sauce. Continue to stir on the heat until the vegetables are well coated, then remove and serve immediately with steamed rice and freshly chopped coriander.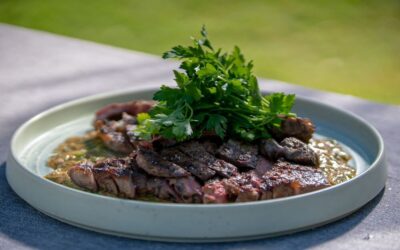 Ingredients: Serves: 2-4 2 x 250g T-bone or Rump steak Sea salt 2 Tbsp Olive oil 2 Tbsp Butter 1 brown onion, diced 2-3 cloves garlic, finely chopped 1 tsp dried chilli flakes 2 tsp dried mixed herbs 40 'twists' cracked black pepper 2 chicken stock cubes, crumbled 2-3...