Braised Lamb Shoulder with Toum
Matt Sinclair
4kg Lamb shoulder with a generous fat cap
2 Litres liquid chicken stock
¼ cup Extra Virgin Olive oil
1 Tbsp. cumin seeds
1 Tbsp. coriander seeds
4 bay leaves
1 tsp black peppercorns
Sea salt
Toum
1/3 cup garlic cloves, peeled
20gm lemon juice
20gm iced water
1 cup Extra Virgin Olive Oil
Salt
Preheat the oven to 160C.
In a large saucepan heat 2 Tbsp. of the olive oil over a medium heat. Add cumin seeds, coriander seeds, bay leaves and peppercorns and fry off for approximately 1-2 minutes or until aromatic. Add chicken stock and bring to the boil to infuse.
Place lamb shoulder in desired braising tray, ensuring it is deep enough to submerge the entire shoulder. Pour stock over the lamb, cover with tin foil and place into the oven for 3.5 hours.
Remove from the oven and allow to rest in the braising liquid for approximately 30 minutes.
Toum:
Meanwhile, prepare the toum in a food processor. Add the garlic, lemon and water and blitz on low to combine. Scrape the edges down and blitz again, slowly pour in the olive oil and process until combined and emulsified. Adjust seasoning with salt and extra lemon juice if required. Store in an airtight container in the refrigerator for up to 1 week. Bring to room temperature before serving.
Turn the oven to 240C. Remove lamb shoulder from braising liquid and place on a roasting rack. Drizzle the fat cap with remaining olive oil and generously season with sea salt. Place into a heated oven for approximately 10-15 minutes, or until golden and crispy.
Our friends at Wine Selectors suggest pairing this dish with a Cabernet Sauvignon.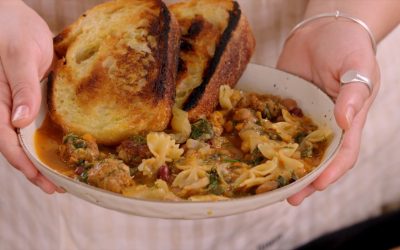 Ingredients: 4 Spicy Italian Sausages Packet of Farfalle Pasta 1 Leek 1 Carrot 1 Onion 2 Garlic 2 cups Shredded Cabbage 1 Chopped Silver Beet 1 400gm Tinned Beans 1 tsp Cumin powder 1 tsp Coriander  powder 1tsp Paprika powder 2 tbsp Tomato Paste Stock of your choice...