Brazillian Garlic Bread
Ben O'Donoghue
Serves 4-6

3 egg yolks
5 garlic cloves
A good pinch of salt

250 ml (1 cup) extra virgin olive oil
250 ml (1 cup) thick / heavy cream
1 tablespoon dried oregano
2 cups grated mature cheddar
1 long baguette
Using a stick blender, blend the egg yolks in a jug with the garlic and salt.
Slowly add the olive oil until you have a thick mayonnaise. Now slowly add the cream. Add half the dried oregano to the creamy mayo.
Cut incisions into the baguette, about three-quarters deep, and about one finger-space apart. Using a spoon, fill at least 1 tablespoon of the creamy mayo between each slice.
Place a length of foil on the bench, then top with a similar length of baking paper.
Place the baguette in the middle. Fold the edges inwards once, then wrap the paper and foil up around the bread, leaving it a little loose and the top of the bread exposed.
Pour the remaining creamy mayo over the top of the bread. Sprinkle with the cheese and remaining oregano.
Cook on the resting rack of your barbecue at about 200 C for about 8–10 minutes or until the top of the bread is crispy and the cheese melted and golden brown. If you don't have a resting rack bake it in the oven for the same time at the same temperature.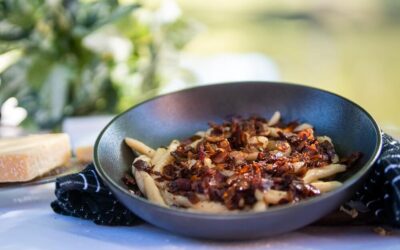 Ingredients: 250g fresh pasta 3 large free range eggs 40g parmigiano cheese 150g smoked pancetta / guanciale Sea salt flakes Black pepper Method: In a mixing bowl, whisk the eggs, parmigiano cheese, salt and pepper. In the meantime, place the diced pancetta into a fry...