Chai Spiced Biscotti
Matt Sinclair
2 ¼ cups plain flour, sifted
1 ½ tsp baking powder
½ tsp salt
½ cup brown sugar
½ cup caster sugar
60gm unsalted butter, melted, cooled
3 eggs, room temperature
100gm flaked almonds, lightly toasted
Chai Spice Mix:
1 tsp ground ginger
1 tsp ground cinnamon
1 tsp ground cloves
1 tsp ground cardamom
1 tsp ground nutmeg
1 tsp ground coriander
½ tsp black pepper
Combine the dry ingredients in a large mixing bowl, including the spice mix. Add more spice (to taste) if required.
Lightly mix the eggs using a paddle attachment on an electric mixer. Add in the cooled butter and mix to combine. Slowly add the flour mix in and mix until a loose dough has formed. Dough will be sticky and may need a 'wet hand' to bring together. Fold in the almonds with a spatula. Turn out into cling film, wrap up in a ball and refrigerate for 20-30 minutes.
Preheat the oven to 160C and line 2 baking trays with greaseproof paper. Remove the dough from the fridge, unwrap and cut in half. Transfer each one to the prepared baking trays. Using wet hands, form the dough into logs, approximately 20cm in length, allowing room to expand. Place in the oven and bake for 30 minutes until golden in colour and firm to touch. Remove and allow to cool for 5 minutes before transferring to a cooling rack.
Reduce the heat of the oven to 150C.
Once the loaves are cool, slice diagonally into 5mm thick pieces using a sharp serrated knife and lay out onto the lined baking trays. Bake in the oven for a further 15-20 minutes, turning halfway. Remove and transfer to a wire rack to cool completely.
Store in an airtight container for up to 1 week.
Our friends at Wine Selectors suggest pairing this dish with a Liqueur Tawny.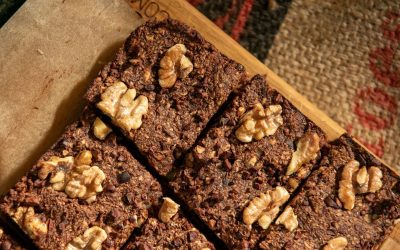 This recipe is brought to you with the help of our friends at JC's Quality Foods Ingredients: 1 ½ cups raw cashews 1 ½ desiccated coconut 3 medium ripe bananas, peeled and chopped 10 fresh dates, pitted 2 tsp vanilla extract ⅓ cup raw cacao powder ½ tsp bicarbonate of...