Cheese Pita
Matt Sinclair
3 cups plain flour, plus extra
Salt
1 ¼ cups warm water
150ml Peanut oil, plus extra
Cheese Filling:
500g ricotta cheese
100gm Greek fetta
300gm cottage cheese
300ml thickened cream
2 eggs
Salt
Combine the cheeses in a large bowl and mix together, season with salt if needed. Separately, combine the eggs and cream with a pinch of salt in another bowl. Set aside until required.
Sift the flour into a large mixing bowl, add a pinch of salt, mix together and make a well in the centre. Pour the water and the oil into the well of the flour and bring in the outer edges and combine to form a sticky dough. Knead the dough for about 5-6 minutes until the dough no longer sticks to your hands. Cut into 2 equal parts and knead each ball for about 5 minutes until smooth. Rub a little oil on each dough ball, place in a plastic bag or put into a bowl and cover with cling film, and place in a warm spot for at least an hour.
Preheat oven to 180C.
Prepare the clean tablecloth on a large workbench or table, lightly sprinkle over some flour to avoid it sticking. Roll out one of the dough bowls with a lightly floured rolling pin to about 30-40cm in diameter. Leave for 3-4 minutes before gently stretching it out to a large sheet, working edge by edge, gently stretching to cover the tablecloth and workbench. The dough will be almost see-through. Small holes and tears are okay but try to avoid large holes.
Sprinkle the stretched dough with a little bit of oil, spread out and dollop ½ of the cheese mixture around the dough, including all the way to the edges, followed by ½ of the egg and cream mixture. Fold over each of the long edges by and inch or so, take the long ends of the tablecloth and gently lift to roll both sides of the dough up into the centre. Lightly grease a large, deep rectangle or round baking tray with oil (not too much). If you are using a round tray, tightly coil the dough into itself and transfer to the baking tray. If using a rectangle tray, tightly fold the dough into itself lengthways (like a zig-zag snake).
Repeat with the remaining dough ball and add to the pita in the baking tray to ensure they fit tightly and snugly together. Lightly drizzle with a bit of oil and place into a preheated oven for 45-60 minutes or until golden brown.
Note: 2 smaller baking trays can be used for 2 pitas, but ensure they are a snug fit for the rolled dough, or it will flatten when cooking.
Our friends at Wine Selectors suggest pairing this dish with a Pinot Gris.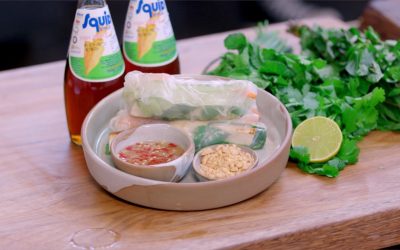 This recipe is brought to you by our friends at Asian InspirationsIngredients:Serves: 8 Prep Time: 10 mins Cook Time: 15 mins Main Ingredients: 1 packet rice paper 150g rice vermicelli noodles 1 bunch coriander 1 bunch Thai basil 1 bunch mint 1 bunch garlic chives 1⁄4...