Chocolate Crepes
Matt Sinclair
Batter
2 eggs
1 cup milk
1/2 cup water
3/4 cup plain flour
1/3 cup brown sugar
1/4 cup cocoa powder
1/4 cup EVOO
Pinch sea salt
Compote
1 cup frozen mixed berries
2 tbsp caster sugar
1 tbsp lemon juice
Lemon zest
Topping
Whipped Cream
Dark Chocolate
Batter
Place eggs, water and milk into a blender, followed by the rest of the crepe batter ingredients. Blitz for approximately 30 seconds until smooth. Place the blender jug and batter into the fridge to rest for at least 15 minutes.
Compote
Meanwhile, place all compote ingredients into a small saucepan, lid on. Put the saucepan on your smallest burner, on the lowest heat. Cook for approximately 15 – 20 minutes, or until syrupy.
Crepes
Place a large non-stick pan on medium heat, brush the pan with butter. When pan is hot pour in approximately 1/3 cup of crepe batter and swirl around the circumference of the pan until the batter is set. Place back on the heat for approximately 1 minute, flip over and cook for a further minute. Repeat process, working on 3 crepes per serve.
Top crepes with compote, whipped cream and grated dark chocolate.
Our friends at Wine Selectors suggest pairing this dish with a Liqueur Muscat.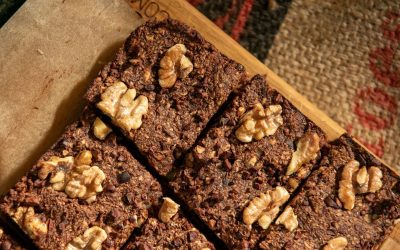 This recipe is brought to you with the help of our friends at JC's Quality Foods Ingredients: 1 ½ cups raw cashews 1 ½ desiccated coconut 3 medium ripe bananas, peeled and chopped 10 fresh dates, pitted 2 tsp vanilla extract ⅓ cup raw cacao powder ½ tsp bicarbonate of...