Chocolate Raspberry Brownies
Joel Feren
Makes 8 Brownies
½ cup Ensure chocolate powder
3 eggs
¼ cup caster sugar
200g dark chocolate
¾ cup plain flour
½ tsp baking powder
¾ cup extra virgin olive oil
1 tsp vanilla extract
1 tbsp. cocoa powder
½ cup dark chocolate chips
1½ cups raspberries
Preheat the oven to 150°C (fan-forced).
Grease base and sides of a 26cm x 20cm baking tin with olive oil spray and line with baking paper.
In a large mixing bowl beat eggs for 2 minutes with an electric beater. Slowly add the sugar and beat for a further 3-4 minutes until the mixture becomes thick and glossy.
Place the dark chocolate in a microwave-safe bowl and microwave on a medium setting for 2 minutes.
Sift the flour, cocoa powder and baking powder into egg mixture. Add the melted chocolate, vanilla extract and oil.
Gently fold the Ensure powder, 1 cup of raspberries and chocolate chips through the mixture.
Pour the batter into the prepared baking tin and top with remaining raspberries. Gently press each raspberry into the mixture.
Bake for 30 minutes or until a skewer comes out clean.
Set aside to cool in the tin for 5 minutes before transferring to a wire rack.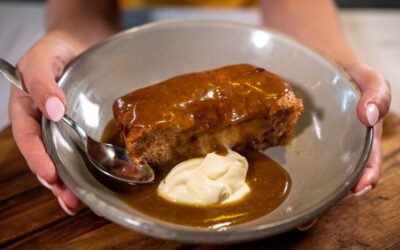 Ingredients: 185 g dates 1 cup water 60g butter 2 eggs 185g self raising flour 185g sugar 1tsp baking powder ½ tsp vanilla paste Butterscotch Sauce: 1 cup cream ¾ cup brown sugar 2 tbsp butter Pinch of salt Method: Bring the dates and water to a boil, then remove from...