Coconut Flan
Truffle Risotto
Serves 10-12
1/2 cup caster sugar
400ml coconut milk
395ml condensed milk
120ml evaporated milk
5 eggs
1 tsp vanilla extract
Preheat the oven to 180C.
Place the sugar in a non-stick pot and place over a low-medium heat. Stir continuously until melted and rich golden brown in colour. Very carefully, pour into an 8-inch cake tin (Caution – this will be hot), swirl the melted sugar to evenly coat the base, and move up the sides of the cake tin.
Place the coconut milk, condensed milk, evaporated milk, eggs, and vanilla into a blender and mix until well combined. Pour into the cake tin on top of the melted sugar.
Place the cake tin in a larger baking tray and fill the baking tray with hot water 1/2 inch up the side. Bake in the oven for approximately 45 minutes or until a knife in the middle comes out clean.
Remove cake tin from the water bath and transfer to a cooling rack for 30 minutes. Transfer to the fridge and chill for 4 hours.
To remove flan from cake tin, put the base in warm water for about 5 minutes to soften caramel. Run a knife around the edge of the flan, place a large, inverted plate over the top and quickly flip to turn out. Refrigerate until ready to serve.
Our friends at Wine Selectors suggest pairing this dish with a Late Harvest Riesling.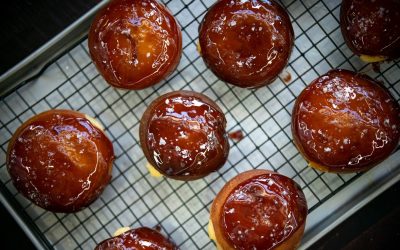 Ingredients:Makes 12 donuts Oil, for frying For the Dough: 1 cup lukewarm milk 1 tbsp dried yeast 1/3 cup caster sugar 3 egg yolks 1 tsp vanilla paste 4 tbsp soft butter 4 1/4 cups plain flour For the Custard: 1/2 cup sugar 3 tbsp cornflour 2 cups milk 4 yolks 2 tsps...