Cold Spinach with Toasted Sesame Seeds
Tobie Puttock
Serves four
400g fresh spinach leaves, washed in cold water
4tbsp toasted white sesame seeds
4tsp soy sauce
2tsp maple syrup
Blanch the spinach in boiling salted water for about 3o seconds or until it starts to wilt.
Drain and refresh in cold running water. Once cold use your hands to form the spinach into four equal sized balls and squeeze the balls to remove as much moisture as possible.
Pop the spinach into a mixing bowl with the sesame seeds, soy sauce and the maple syrup.
Mix to combine and serve.
I LOVE this recipe. It's easy, sweet and salty and is so so delicious.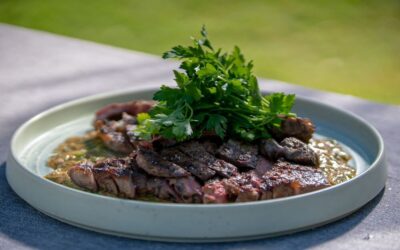 Ingredients: Serves: 2-4 2 x 250g T-bone or Rump steak Sea salt 2 Tbsp Olive oil 2 Tbsp Butter 1 brown onion, diced 2-3 cloves garlic, finely chopped 1 tsp dried chilli flakes 2 tsp dried mixed herbs 40 'twists' cracked black pepper 2 chicken stock cubes, crumbled 2-3...