Cumin Seed Flatbread
Matt Sinclair
● 350ml lukewarm water
● 1 sachet (7g) dried yeast
● 500g 00 flour
● Pinch of salt
● Pinch of sugar
● 2 Tbsp cumin seeds
● 2 Tbsp Extra Virgin Olive oil, plus extra
Add the yeast and warm water to a bowl, mix together and set aside for 5 minutes until slightly frothy.

Place the flour, salt, sugar and cumin seeds into a large bowl and mix to combine. Make a well in the centre and pour in the yeast mixture and the oil. Bring in the sides of the flour into the centre with your hands and gradually combine the wet and the dry ingredients.

Mix the dough in the bowl until smooth. Turn out onto a lightly floured surface and knead for approximately 10 minutes or until smooth and elastic. Place the dough in a lightly oiled bowl, cover with cling film and sit somewhere warm for about 30 minutes or until it has doubled in size.

Remove cling film and punch down the dough with your fist. Turn out onto lightly floured surface and knead for about 30 seconds until it has returned to its original size. Cut the dough into 8 equal pieces, roughly 100gm each, and roll each piece into a ball. Cover with a damp towel to avoid drying them out.

Add a drizzle of oil to a frying pan over a medium-high heat. Flatten a dough ball out with the palm of your hand and gently press and pull it out until it is about 2mm thick. Transfer the flattened dough to the hot pan, placing it in away from you to avoid oil splatter. Cook on either side for about 1-2 minutes until golden and charred in spots. Remove and season with salt. Serve Hot.
Our friends at Wine Selectors suggest pairing this dish with a Rose.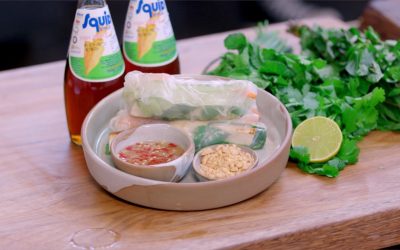 This recipe is brought to you by our friends at Asian InspirationsIngredients:Serves: 8 Prep Time: 10 mins Cook Time: 15 mins Main Ingredients: 1 packet rice paper 150g rice vermicelli noodles 1 bunch coriander 1 bunch Thai basil 1 bunch mint 1 bunch garlic chives 1⁄4...