Dan Dan Noodles
Matt Sinclair
Serves: 4
270g Hikubaku udon noodles
1 bunch Gai Lan, or leafy Asian greens
3 Tbsp vegetable oil
500g pork mince
2 Tbsp Hoisin sauce
2 Tbsp Shaoxing wine
1 Tbsp dark soy sauce
½ Tbsp five spice powder
½ cup roasted crushed peanuts
4 spring onions, thinly sliced
Chilli Oil:
2 Tbsp Sichuan peppercorns
1 cinnamon stick
3 star anise
1 cup vegetable oil
¼ cup crushed chilli flakes
Sauce:
3 Tbsp tahini
¼ cup soy sauce
1 Tbsp sugar
½ Tbsp five spice powder
½ Tbsp Sichuan peppercorns, ground in a mortar and pestle
½ cup prepared chilli oil
2 large cloves garlic, grated
2 Tbsp hot water
Chilli Oil:
Add the Sichuan peppercorns, cinnamon, star anise and oil in a small saucepan and place over a low heat. Bring to approximately 160C and then remove from the heat. Allow the oil to sit for about 6-8 minutes and then remove the spices from the oil. Add in the chilli flakes and let them steep in the hot oil until the oil is cool.
Sauce:
In a medium bowl, combine all on the sauce ingredients and mix until smooth. Adjust to personalised taste with extra Sichuan peppercorns, chilli oil etc. Set aside until required.
Prepare the noodles as per packet instructions, blanching the greens for the last minute of cooking. drain and cool under running water. Strain well.
Heat the oil in a wok over a high heat. Add the pork and move around the wok constantly until browned, approximately 1-2 minutes. Add in the Hoisin sauce, Shaoxing, dark soy and five spice powder. Toss to incorporate. Season to taste. Cook, moving often until the sauce has evaporated, approximately 5 minutes.
To serve, divide the sauce into the base of 4 bowls. Top with the noodles and greens, followed by the pork mixture. Garnish well with crushed peanuts and spring onions.
Mix the ingredients together in the bowl and serve.
Our friends at Wine Selectors suggest pairing this dish with a Grenache.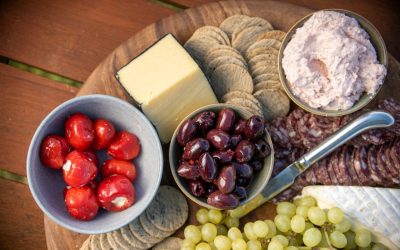 Ingredients: Hard Cheese Soft Cheese Blue Cheese 1 baguette  A bunch of Green Grapes Honeycomb Salami (sliced) Smoked Salmon Dip Artisan Crackers Beetroot dip Poppy Seed Skordalia Dip Dukkah Stuffed Bell Peppers Marinated Olives (pitted) Method: There are no rules or...