Duck a l'Orange
Ben O'Donoghue
4 duck breast
1 tablespoon brown sugar
½ tablespoon salt
¼ bunch thyme
1 tsp five spice
butter
garlic
Sauce
1/3 cup sugar
1/3 cup fresh orange juice (from 1 to 2 oranges)
segments of one orange
2 tablespoons white-wine vinegar
1/8 teaspoon salt
2 to 4 tablespoons duck or chicken stock or reduced-sodium chicken broth
1 tablespoon unsalted butter, softened
1 tablespoon all-purpose flour
1 tablespoon fine julienne of fresh orange zest, removed with a vegetable peeler
Season the duck breast with the spiced salt and sugar for 1 hour then remove the cure.
Place the duck breast skin-side down in a pan and slowly caramelise. Turn over and continue to cook. When medium-rare remove from the pan and rest.
Sauce
Cook sugar in a dry 1-quart heavy saucepan over moderate heat, undisturbed, until it begins to melt. Continue to cook, stirring occasionally with a fork, until sugar melts into a deep golden caramel. Add orange juice, vinegar, and salt (use caution; mixture will bubble and steam vigorously) and simmer over low heat, stirring occasionally, until caramel is dissolved. Remove syrup from heat.
Add enough stock to the pan that you cooked the duck breast in to total 1 cup liquid.
Stir butter and flour together to form a beurre manié. Bring pan juices to a simmer in a 1- to 2-quart heavy saucepan, then add beurre manié, whisking constantly to prevent lumps. Add orange syrup and zest and simmer, whisking occasionally, until sauce is thickened slightly and zest is tender which should be about 5 minutes.
Serve with duck.
Our friends at Wine Selectors has paired this dish with a F. Calabria Montepulciano 2018 or SignorVino Vermintino 2018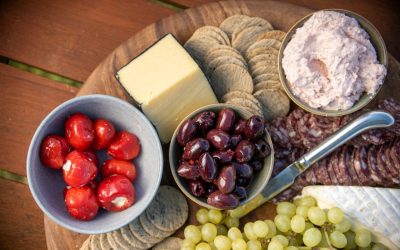 Ingredients: Hard Cheese Soft Cheese Blue Cheese 1 baguette  A bunch of Green Grapes Honeycomb Salami (sliced) Smoked Salmon Dip Artisan Crackers Beetroot dip Poppy Seed Skordalia Dip Dukkah Stuffed Bell Peppers Marinated Olives (pitted) Method: There are no rules or...