Duck Confit with Celeriac, Spinach and Red Wine Glaze
Rob Rees
2 Duck Legs
400- 500ml Olive Oil
Zest of ½ Lime
Zest of ½ Orange
1 Cinnamon Stick
6 Cloves
3 Star Anise
2 tsp Five Spice
2 Cloves Garlic
1 tsp Caster Sugar
Juice of 1 orange
Indigenous herbs such as Sea Parsley and Myrtle could be perfect flavorings. A good confit is a combination of your most liked flavors gently extracted and absorbed by the meat during the cooking process.
Celeriac
½ Celeriac peeled and sliced into Julienne Strips
2 Tablespoons Mayonnaise
1 Generous Teaspoon Tarragon Mustard or Grain Mustard
35g Chopped English Parsley
Juice of half lemon
Spinach
30g Unsalted Butter
275g Baby leaf washed spinach
Fresh Nutmeg to grate
Reduction Sauce
¾ Glass Red Wine
2 Teaspoons Clear Honey
A good splash of Balsamic Vinegar
Trim the knuckle off the Duck Legs and place them in a deep thick bottomed pan or casserole dish. Sprinkle over the spices, zests, juice and sugar and then pour over the oil until the duck legs are almost coated.
Place the saucepan onto the hotplate and bring it to simmering point. Cover with a lid and place in a slow oven (100 degrees) for 4 hours minimum.
Once cooked and the meat is falling off the bone it is now ready to serve, or can be cooled and stored in the fridge until a later date. As long as the duck is covered with oil it will keep for at least a month in the fridge.
To reheat the duck, transfer it to a clean saucepan and place into the top oven to warm through. This can be done either in or out of the fat.
Glaze the duck with a touch of honey upon serving.
Serve with a salad of Julienne Celeriac, Grain or Tarragon Mustard, Chopped English Parsley, lemon juice and Mayonnaise as well as saute spinach and a red wine glaze.
Reduction Sauce:
Place all the ingredients together in a saucepan and gently heat until the liquid has reduced by at least half and is very sticky.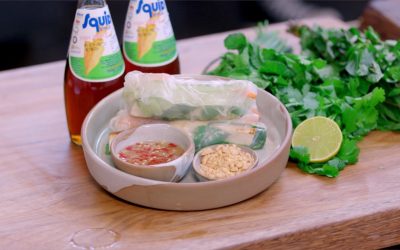 This recipe is brought to you by our friends at Asian InspirationsIngredients:Serves: 8 Prep Time: 10 mins Cook Time: 15 mins Main Ingredients: 1 packet rice paper 150g rice vermicelli noodles 1 bunch coriander 1 bunch Thai basil 1 bunch mint 1 bunch garlic chives 1⁄4...