Serves 4
200gm white chocolate, roughly chopped

300gm Greek vanilla yoghurt

200gm Mascarpone

4 Meringue nests, roughly chopped and crumbled

100gm raspberry sorbet

½ cup passionfruit pulp

125gm fresh blackberries, some halved, some left whole
Preheat the oven to 140C and line a flat baking tray with baking paper. Scatter the white chocolate and place in the oven to melt and brown for 30-40 minutes, checking often, and remove once rich and golden brown. The darker the roast, the richer the caramel flavour. Remove and allow to cool before crushing it up, blitzing it into a crumb, or chopping it up into pieces.

Lightly whisk the mascarpone to soften and then add in the yoghurt. Combine well.

To assemble, dollop most of the yoghurt mixture onto a serving platter and smear randomly around the plate. Scatter pieces of meringue over the top and dollop balls of sorbet around randomly. Drizzle over the passionfruit pulp, and dollop the remaining yoghurt around the platter, and finish by scattering the blackberries.

Sprinkle over some crumbled roasted white chocolate and serve.
Our friends at Wine Selectors suggest pairing this dish with a Moscato.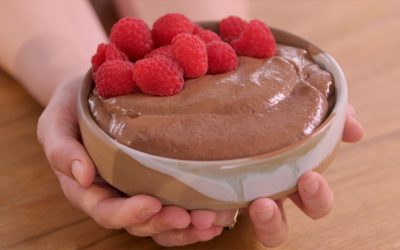 Ingredients: Plant-based milk Chia seeds Cacao powder Maple syrup Vanilla extract or paste Method: Combine all of the ingredients in a high-speed blender and blend until smooth. If you prefer to eat the seeds whole, you can skip the blender and combine the ingredients...