Falafel Pitas
Matt Sinclair
Serves: 4
2 cups dried chickpeas
2 tsp baking soda
1 red onion, roughly chopped
1 bunch Coriander, roughly chopped
1 bunch Parsley, roughly chopped
½ bunch Dill, fronds picked
8 cloves garlic
3 Tbsp ground cumin
2 Tbsp ground coriander
½ – 1 Tbsp chilli powder
1 Tbsp paprika
Salt
Pepper
Oil for frying
4 leaves kale, finely chopped
2 Tomatoes, diced
1 Cucumber, diced
½ Red onion, diced
½ bunch Parsley, finely chopped
Olive Oil
Lemon juice
To Serve:
4-6 Pita breads
200gm Garlic dip
Sriracha
Soak chickpeas with the baking soda in water overnight. Drain and rinse once softened.
Add the onion, herbs, garlic and spices to a food processor and pulse to combine. Add 2-3 cups of the soaked chickpeas and season with salt and pepper. Pulse together until well combined. Taste and adjust the seasoning if needed.
Heat oil in a deep frypan to 180C. Form balls using 2 Tbsp of falafel mixture and carefully drop into the hot oil. Fry for 3-5 minutes on each side, remove with a slotted spoon and drain on a paper towel, season with a little salt and repeat with remaining falafels mixture.
Combine the salad ingredients in a medium bowl, drizzle to lightly coat in olive oil and season with salt and lemon juice to taste.
Heat the pita bread in the oven, microwave or in a pan over the stove top. To serve, cut the pita breads in half and fill the centre of the pita pocket (or use as a wrap) with garlic sauce, falafels, salad and sriracha if desired.
Our friends at Wine Selectors suggest pairing this dish with a Vermentino.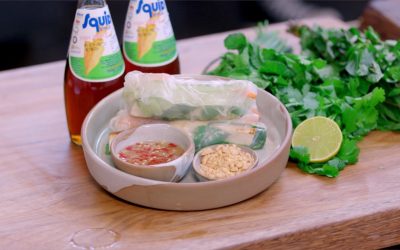 This recipe is brought to you by our friends at Asian InspirationsIngredients:Serves: 8 Prep Time: 10 mins Cook Time: 15 mins Main Ingredients: 1 packet rice paper 150g rice vermicelli noodles 1 bunch coriander 1 bunch Thai basil 1 bunch mint 1 bunch garlic chives 1⁄4...