Fish Finger Sandwich
Ben O'Donoghue
Serves 2
2 rounds Freshly baked Laucke wholemeal flour loaf sliced thick
6 fish fingers oven-baked
Soft salted butter or margarine
1 cup finely shredded iceberg lettuce
½ cup or 100gm kewpie mayo
1tbsp finely chopped caper
1tbsp finely chopped dill pickles
1tbsp finely chopped white onion
1tbsp finely chopped dill
1tspn Worcestershire sauce
Cook your fish fingers either in the oven or pan-fry, however you prefer. Oven is easiest
To make your tartare, combine the chopped capers, pickles, onion and dill in a bowl and add the Worcestershire sauce and mix well
Butter you bread generously, then add a generous dollop of tartare sauce. Top the tartare sauce with an even amount of shredded iceberg lettuce. Finally, three fish fingers on each sando. Then slap the top slice of fresh bread down on top.
Bloody delicious!!!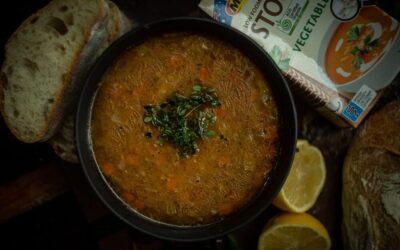 Ingredients: 500g dried chickpeas, soaked in cold water overnight 1-2 sticks of celery, finely chopped 1 large onion, chopped 150ml extra virgin olive oil, plus extra for serving Juice of 1 lemon, or more if needed 2 tbsp fresh flat-leaf parsley, chopped A sprinkling...