French Toast with Strawberries
Joel Feren
Serves 2
4x slices of bread (wholemeal or wholegrain)
1.5 tbsp butter
1 tbsp maple syrup
1 cup strawberries, quartered
Extra butter for cooking
Egg mixture
1 egg
1/3 cup milk
2x scoops Ensure vanilla powder
1/2 tsp vanilla extract
1/4 tsp cinnamon
1/4 tsp nutmeg
Lightly spread the butter on both sides of the bread and set aside.
In a mixing bowl, whisk together egg, milk, Ensure, vanilla extract and spices.
Dip the bread into the egg mixture, flipping to coat each side evenly.
Melt the butter in a medium frying pan over a low-medium heat. Place the bread into the frying pan (do not overcrowd the pan). Cook for 2 minutes on each side or until golden brown. Transfer to a serving plate.
Repeat until all the bread is cooked.
Drizzle with maple syrup and top with strawberries to serve.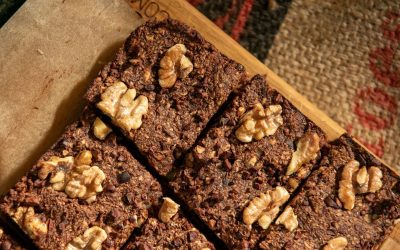 This recipe is brought to you with the help of our friends at JC's Quality Foods Ingredients: 1 ½ cups raw cashews 1 ½ desiccated coconut 3 medium ripe bananas, peeled and chopped 10 fresh dates, pitted 2 tsp vanilla extract ⅓ cup raw cacao powder ½ tsp bicarbonate of...