French Toast with Strawberries
Joel Feren
Serves 2
4x slices of bread (wholemeal or wholegrain)
1.5 tbsp butter
1 tbsp maple syrup
1 cup strawberries, quartered
Extra butter for cooking
Egg mixture
1 egg
1/3 cup milk
2x scoops Ensure vanilla powder
1/2 tsp vanilla extract
1/4 tsp cinnamon
1/4 tsp nutmeg
Lightly spread the butter on both sides of the bread and set aside.
In a mixing bowl, whisk together egg, milk, Ensure, vanilla extract and spices.
Dip the bread into the egg mixture, flipping to coat each side evenly.
Melt the butter in a medium frying pan over a low-medium heat. Place the bread into the frying pan (do not overcrowd the pan). Cook for 2 minutes on each side or until golden brown. Transfer to a serving plate.
Repeat until all the bread is cooked.
Drizzle with maple syrup and top with strawberries to serve.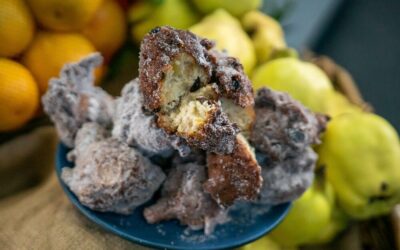 Ingredients: 150g raisins 100ml grappa 400g plain flour 10g yeast 115g sugar 2 eggs 150ml milk 30g toasted pine nuts Zest 1 orange Zest 1 lemon 50g chopped candied fruit Canola oil, for frying Method: Soak the raisins in grappa and let them plump up for 5  minutes,...