Goats Cheese, Grape and Rosemary Focaccia
Matt Sinclair
Recipe brought to you with the help of our friends at Wine Selectors
500g strong bread flour
300ml lukewarm water
7gm dried yeast (1 sachet)
1/2 Tbsp caster sugar
Olive oil
1 cup assorted seedless grapes, halved
150g Goats cheese feta (Meredith dairy)
1/2 small red onion, sliced
1-2 sprigs fresh rosemary, roughly chopped
Sea Salt
Cracked pepper
Place the flour and a decent pinch of sea salt in a large bowl and make a well in the centre. In a jug, add the water, yeast and sugar and mix together. Set aside for a few minutes until it starts to foam.
Slowly pour the water into the well of the flour and bring in the sides with a fork to combine. When the flour and liquid have combined, begin to knead either in the bowl or on a lightly floured bench for about 5 minutes until the dough has become soft and springy.
Lightly grease a large bowl with oil. Form the dough into a smooth ball, place into the bowl, dust with a bit of extra flour, cover with a towel or cling film and place in a warm place for about 30 minutes, or until it has doubled in mass.
Preheat the oven to 220C.
Once the dough is ready, pound out some of the air and transfer to a lightly greased baking tray. Push the dough out evenly to meet the sides of the tray. Dot your fingers all over the dough to make little craters and wells. Scatter over the grapes evenly, followed by the red onion. Dollop the goat's cheese evenly and sprinkle over the rosemary. Drizzle over a little olive oil and sprinkle some sea salt and cracked pepper over the toppings. Set aside to rise again for about 20 minutes.
Place in the oven for about 20 minutes or until golden on top. Transfer to a wire rack – serve warm or cold.
Our friends at Wine Selectors suggest pairing this dish with a Fiano.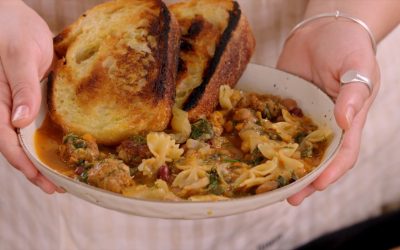 Ingredients: 4 Spicy Italian Sausages Packet of Farfalle Pasta 1 Leek 1 Carrot 1 Onion 2 Garlic 2 cups Shredded Cabbage 1 Chopped Silver Beet 1 400gm Tinned Beans 1 tsp Cumin powder 1 tsp Coriander  powder 1tsp Paprika powder 2 tbsp Tomato Paste Stock of your choice...