Grilled Vegetables With Sumac and Lentil Salad
Matt Sinclair
Serves: 4
3 Tbsp Extra Virgin Olive Oil
1 Tbsp sumac
2 Eggplants, sliced 1cm lengthways
2 Zucchinis, halved lengthways
300gm baby carrots, peeled
200gm watercress
1 small red onion, thinly sliced
250gm brown lentils, drained and rinsed
1/3 cup currants
¼ cup toasted pepitas
Dressing:
1/3 cup flat leaf parsley
1/3 cup mint leaves
1 green chilli, roughly chopped
1 clove garlic, roughly chopped
100gm tahini paste
2 Tbsp lemon Juice
1 Tbsp honey
2 Tbsp Extra Virgin Olive Oil
100ml coldWater
Sea Salt and Pepper
In a small bowl, combine the olive oil and sumac. Evenly coat the vegetables in the sumac oil. Heat a griddle pan or BBQ on high. Once hot, chargrill the vegetables for approximately 2-3 minutes on each side until charred and tender. Remove to the side to cool slightly and season with salt to taste.
Combine the herbs, chilli, garlic, tahini paste, lemon juice and honey in a food processor and blitz to combine. Slowly add the olive oil while the food processor is on, adding a little water if needed. Season to taste once it has reached the consistency similar to yoghurt.
To assemble, you can keep the vegetables whole or break/cut them into smaller pieces. Lay out onto a platter with the watercress and fold together gently to combine. Dollop/drizzle some of the dressing across the vegetables, sprinkle over the lentils and scatter the currants and pepitas over the top. Serve the extra dressing on the side.
Our friends at Wine Selectors suggest pairing this dish with a Sauvignon Blanc Semillon.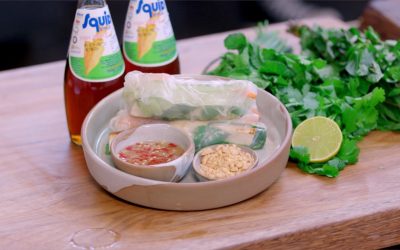 This recipe is brought to you by our friends at Asian InspirationsIngredients:Serves: 8 Prep Time: 10 mins Cook Time: 15 mins Main Ingredients: 1 packet rice paper 150g rice vermicelli noodles 1 bunch coriander 1 bunch Thai basil 1 bunch mint 1 bunch garlic chives 1⁄4...