Homemade Ricotta
Matt Sinclair
Serves: 4
2 Litres Full cream milk
1/2 – 1 tsp sea salt
3 Tbsp fresh Lemon juice or white vinegar
1 tsp of lemon zest, optional addition
Line a colander with lightly dampened cheesecloth or chux, ensuring there is enough excess to tie up and hang later.

Heat the milk in a heavy-based pan over a low-medium heat. Add the salt and stir occasionally making sure that the milk does not burn. Heat the milk to 85C using a thermometer. The heating should take approximately 20 minutes.

Remove from the heat, add the lemon juice or vinegar and slowly mix through for a couple of minutes. The curds will begin to separate from the whey. Cover the pot with a lid and allow to stand for at least 15 minutes. Strain or spoon out the ricotta into the prepared clothed colander. Tie up the material to encase the curds and hang over a bowl to strain.

Hang ricotta for 5 minutes for creamy and smooth consistency or leave for up to 20-30 minutes for dryer cheese. Cover and refrigerate.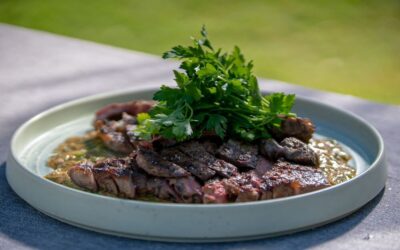 Ingredients: Serves: 2-4 2 x 250g T-bone or Rump steak Sea salt 2 Tbsp Olive oil 2 Tbsp Butter 1 brown onion, diced 2-3 cloves garlic, finely chopped 1 tsp dried chilli flakes 2 tsp dried mixed herbs 40 'twists' cracked black pepper 2 chicken stock cubes, crumbled 2-3...