King Prawn Nasi Goreng
Matt Sinclair
Serves: 4
12 King Prawns, peeled and deveined, cut into bite-sized pieces
2 cups cooked Basmati rice, chilled
1 cup wombok, shredded
1 large carrot, grated
3 Tbsp. vegetable oil
2 Tbsp. light soy sauce
Nasi Paste:
1 Brown onion, chopped
3 cloves garlic
1 inch piece ginger, sliced
2 long red chillies, chopped
1 tsp. ground cumin
1 tsp. ground coriander
1 tsp. ground turmeric
¼ cup vegetable oil
Garnish:
½ cup coriander leaves
¼ cup roasted granulated peanuts
2 eggs, fried
½ cucumber, halved and thinly sliced
2 Tbsp. Kecup Manis
In a food processor add all Nasi paste ingredients and blitz on high into a paste. Place into an airtight container and refrigerate. Leave ideally overnight. 
 In a wok over high heat, add 2 Tbsp. vegetable oil and nasi paste and fry until the oil splits away from the paste and darkens in colour, approximately 5 minutes. Add rice to wok and toss to coat evenly. Transfer to a large bowl and set aside. 
 Return wok to a high heat and add remaining 1 Tbsp. vegetable oil. Once oil is smoking, add prawns and toss to seal for approximately 15 seconds. Add wombok and carrot and toss to combine. Add soy sauce and stir-fry until vegetables soften slightly, approximately 1 minute. Add rice back to wok and mix through to combine. Season to taste. 
 Lay out onto a large platter and garnish with fried eggs, coriander leaves, sliced cucumber and drizzle of kecup manis. Serve immediately.  
Our friends at Wine Selectors suggest pairing this dish with a Viognier.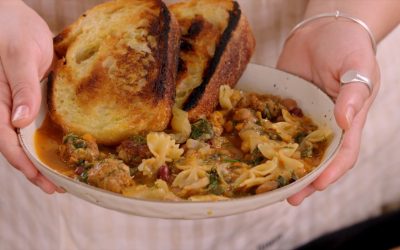 Ingredients: 4 Spicy Italian Sausages Packet of Farfalle Pasta 1 Leek 1 Carrot 1 Onion 2 Garlic 2 cups Shredded Cabbage 1 Chopped Silver Beet 1 400gm Tinned Beans 1 tsp Cumin powder 1 tsp Coriander  powder 1tsp Paprika powder 2 tbsp Tomato Paste Stock of your choice...