Kingfish with Yuzu Mojo Dressing
Ben O'Donoghue
500g Kingfish fillets
1 ripe avocado
4 chilled plates or bowls
Yuzu Mojo Dressing
Yields 250ml
1 x bunch coriander
½ bunch parsley
2 x cloves garlic
¼ cup olive oil
80ml yuzu citrus juice
Salt
Yuzu Mojo Dressing
Place all the ingredients into a high speed blender and puree at high speed until super fine and green
Squeeze through a nut bag or sieve to remove all fiber
Keep chilled on ice and adjust the seasoning with salt if needed
To Make the Ceviche
Slice the king fish fillet into bite size slices and place into the chilled Mojo for 2-3 minutes.
Whilst the kingfish is marinating, slice the avocado into similar sized slices.
Remove the fish from the mojo and place on to some absorbent paper then arrange the alternating slices of avocado and kingfish in your bowls.
Dress the kingfish and avocado in generous amounts of mojo and season with a sew flakes of salt.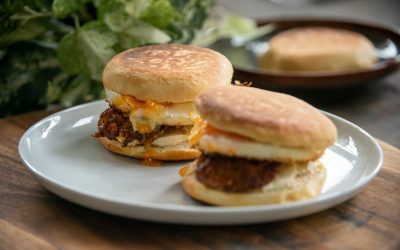 Ingredients: 300ml milk, plus extra 7g sachet of dried yeast 25g white caster sugar 50g shortening or lard 425g plain flour, plus extra 20g polenta, optional Unsalted butter Method: Gently warm the milk in a pan until lukewarm or body temperature, 37ºC. Add the yeast...