Loaded Hummus
Matt Sinclair
Serves: 2
95gm Chilli infused tuna
100g Fresh ricotta
1/2 cucumber, diced
3 roasted piquillo pepper, diced
5 pitted green olives, chopped
1 Tbsp chives, chopped
1 Tbsp parsley, chopped
1/4 cup toasted pine nuts
1 Tbsp Extra virgin olive oil
Lemon juice to taste
Salt and pepper
150gm Hummus
Tortilla chips to serve
In a medium bowl add the flaked tuna and its oil, crumbled ricotta, cucumber, piquillo peppers, olives, herbs, pinenuts, olive oil and lemon juice and gently combine. Adjust seasoning to taste with lemon juice, salt and pepper if required.
Spoon the hummus onto the base of a shallow dish and make a well in the centre. Top with the tuna mixture, drizzle with a little extra virgin olive oil and serve immediately with tortilla chips.
Our friends at Wine Selectors suggest pairing this dish with a Semillon.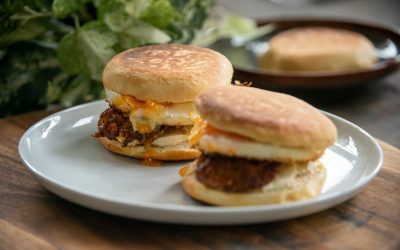 Ingredients: 300ml milk, plus extra 7g sachet of dried yeast 25g white caster sugar 50g shortening or lard 425g plain flour, plus extra 20g polenta, optional Unsalted butter Method: Gently warm the milk in a pan until lukewarm or body temperature, 37ºC. Add the yeast...