Masterstock
Matt Sinclair
2 cup caster sugar
2 cups soy sauce
1 cup shao-hsing wine
3L water
2 inch piece ginger
8 cloves garlic
6 spring onions, 5cm batons
8 star anise
8 coriander seeds
4 cinnamon quills
4 cloves
2 pork trotters
Place an even layer of sugar in a large heavy based saucepan (8L Capacity). Put the stock pot on a medium heat to begin caramelising. Once sugar has reached a dark amber caramel, turn off the heat and very carefully introduce soy, shao-shing and water.
Return to a high heat and add all other ingredients. Simmer uncovered for 3 hours to cook pork trotters.
Including the trotters to the first stock will introduce a great gelatinous body to the stock, if looked after and stored correctly the stock can last for years.
Strain stock into a large sterilized jar for refrigeration or into takeaway containers to freeze.
Our friends at Wine Selectors suggest pairing this dish with a Rose.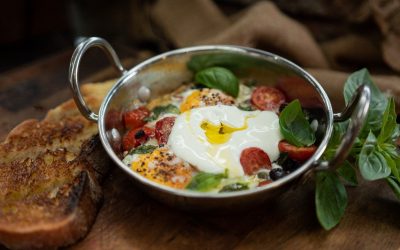 Ingredients: 9 cherry tomatoes, halved 1 small garlic clove, thinly sliced 2 tsp good-quality olive oil 1 tsp balsamic vinegar 5 basil leaves, torn, plus a few extra to serve if you like 5 pitted olives, sliced 2 large free-range egg 1 tsp small capers, rinsed salt...