Microwave Carrot Cake with Lime Icing
Matt Sinclair
2 eggs
1 cup sugar
¾ cup vegetable oil
1 tsp vanilla essence
2 cups grated carrot
1 ¼ cups plain flour
1 tsp baking soda
2-3 tsp cinnamon
2-3 tsp mixed spice
½ tsp salt
Lime Cream Cheese:
200g cream cheese, room temperature
1 ½ cups icing sugar, sifted
Zest of 1 lime, plus extra for garnish
2 tsp lime juice, plus extra to taste
1/3 cup shaved coconut, lightly toasted
1 cup coconut flakes, lightly toasted
In a medium bowl add the eggs, sugar, vegetable oil and vanilla and whisk together to combine. Add the remaining ingredients and mix well to incorporate. More spice can be added if you would like a darker cake with richer flavour.
Pour into a silicone ring mould, cover with a paper towel and place in the microwave for 6 minutes. (this is based on a microwave wattage of approximately 1000W).
If the cake requires further cooking, microwave in bursts of 30 seconds until cooked through.
Carefully remove from the microwave and allow to cool slightly in the silicone mould before turning it out onto a wire rack to cool completely.
Prepare the icing in the meantime by mixing the cream cheese, icing sugar, lime juice and zest in an electric mixer using the paddle attachment. Adjust the tang to taste with extra lime juice if needed.
Ice the carrot cake and garnish with toasted coconut and extra lime zest.
Our friends at Wine Selectors suggest pairing this dish with a Late Harvest Riesling.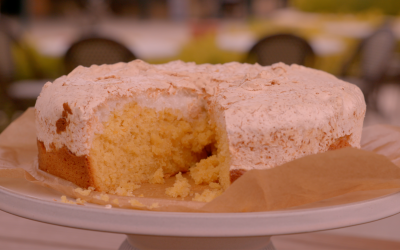 Ingredients:BASE 3 Egg Yolks 1/2 cup Caster Sugar 125g soft butter 2 cups Self-Raising flour 1 cup orange juice Vanilla   TOPPING 3 egg whites 1/2 cup caster sugar 1 cup desiccated coconut Method: Beat butter and sugar until creamy. Add yolks and vanilla. Fold in the...