Miso and Honey Garlic King Prawns
Matt Sinclair
Serves: 4
3 tsp cornflour
1 tsp soy sauce
1 egg white, lightly beaten
1 tsp sesame oil
16 King prawns, peeled, deveined and butterflied
Oil for deep frying
2 Tbsp toasted sesame seeds
2 Tbsp chives, chopped
Miso-Honey Sauce:
3 Tbsp miso paste
2 Tbsp honey
2 Tbsp mirin
3 cloves garlic, grated
2cm piece ginger, peeled, grated
1 Tbsp light soy sauce
Combine the cornflour with 3 tsp of water in a medium bowl and whisk until combined and the cornflour has dissolved. Add in the soy sauce, egg white,, sesame oil and prawns and toss to combine.
In a separate bowl combine the miso-honey sauce ingredients together and season to taste, set aside.
Heat the deep fryer to 180C or oil in a wok until it shimmers. Fry the prawns in batches for about 1 minute before removing onto a paper towel. Repeat with remaining prawns.
Bring the miso-honey sauce to a simmer in a pan over a medium-high heat. Simmer for a minute or so before adding the prawns in to cook for a further 30 seconds to minute, until the prawns are just cooked through.
Transfer to a serving platter and garnish with sesame seeds and chopped chives. Serve with steamed rice and greens.
Our friends at Wine Selectors suggest pairing this dish with a Fiano.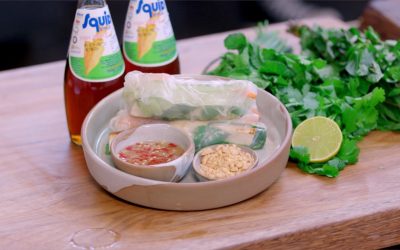 This recipe is brought to you by our friends at Asian InspirationsIngredients:Serves: 8 Prep Time: 10 mins Cook Time: 15 mins Main Ingredients: 1 packet rice paper 150g rice vermicelli noodles 1 bunch coriander 1 bunch Thai basil 1 bunch mint 1 bunch garlic chives 1⁄4...