Orange and Poppyseed Puddings with Rum Custard
Matt Sinclair
Serves: 4-6
125gm unsalted butter, softened
100gm caster sugar
Zest of 2 oranges
Zest of 1 lemon
200gm self-raising flour
1 tsp baking powder
20gm poppyseeds
2 eggs
140ml milk
Rum Custard:
125ml milk
125ml thickened cream
3 large egg yolks
3 Tbsp caster sugar
1 tsp Vanilla extract
2 Tbsp rum
Lightly grease 4-6 ramekins with a little butter or oil.
Add the butter, sugar and zests to the base of a stand mixer and beat to combine for about 5 minute of until pale and fluffy. Scarpe down the sides before adding the sifted flour, baking powder and poppyseeds. Gently mix until just combined before increasing to a medium speed for another 2 minutes. Add one egg at a time, incorporating well after each addition. Scrape down the sides and turn the mixer to a low-medium speed before slowly pouring in the milk. Mix well for 4-5 minutes.

Make sure there is no cake mixture on the bottom or sides of the bowl that has not combined.

Divide the mixture between the prepared ramekins. Cut out 4-6 pieces of baking paper and alfoil that will cover the and wrap over the top of each ramekin. Place the baking paper over the ramekins first and then top with the alfoil, folding down the edges firmly to cover. Put the ramekins in a deep pan and pour in enough boiling water to come halfway up the sides of the ramekins. Cover the pan with a lid and place on a low heat for 30-40 minutes or until puddings have risen and are firm. Water should be at a simmer during cooking. Carefully remove the ramekins from the water and let sit for 2-3 minutes before turning them out onto serving plates.
While the puddings are steaming, prepare the rum custard. Combine the milk and cream in a heavy-based saucepan and place over a low-medium heat. Bring to a light simmer and remove from the heat. Whisk the egg yolks and sugar in a medium bowl to combine. Very carefully and slowly pour and whisk in the milk mixture into the egg and sugar and continue whisking to combine. Pour everything back into the saucepan and place over a low heat, mixing constantly until thickened (thicken to consistency between an anglaise and custard). Take care not to boil as it will scramble or separate. Remove from the heat before adding in the vanilla and rum.
Serve the warm steamed puddings with rum custard over the top, and vanilla Ice cream if you wish.
Our friends at Wine Selectors suggest pairing this dish with a Botyrtis Semillon.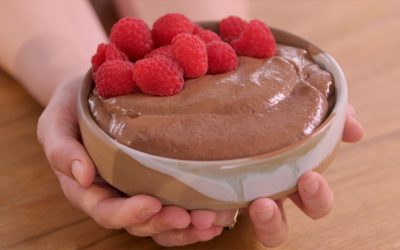 Ingredients: Plant-based milk Chia seeds Cacao powder Maple syrup Vanilla extract or paste Method: Combine all of the ingredients in a high-speed blender and blend until smooth. If you prefer to eat the seeds whole, you can skip the blender and combine the ingredients...