Pannacotta
Ben O'Donoghue
Serves 8
1.2 litres of cream
2 vanilla pods
1 lemon (finely zested)
3 leaves of gelatine
150ml milk
250g white chocolate
85g icing sugar
To serve
Fresh ripe strawberries
Vincotto
Pour 900ml of the double cream into a small pot, stir in the vanilla pods and lemon zest. Then simmer until reduced by a quarter. Keep warm.
Soak the gelatine in the cold milk until soft. Then warm the milk until the gelatine is dissolved. Stir into the reduced cream mixture along with the white chocolate. Pass through a sieve into a bowl and chill over ice until thickened but not set.
Lightly whip the remaining double cream with the icing sugar. Fold this mixture into the thickened cream and chocolate mixture. Divide between eight cappuccino cups (about 150mls) and leave to set.
To serve, turn each panna cotta out onto a plate and top with chopped strawberries, which have been lightly crushed with a little icing sugar and drizzled with aged balsamic vinegar.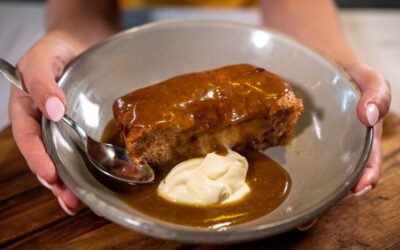 Ingredients: 185 g dates 1 cup water 60g butter 2 eggs 185g self raising flour 185g sugar 1tsp baking powder ½ tsp vanilla paste Butterscotch Sauce: 1 cup cream ¾ cup brown sugar 2 tbsp butter Pinch of salt Method: Bring the dates and water to a boil, then remove from...