Pear Streusel Cake
Matt Sinclair
1 pear, peeled and cored, diced
1 tsp ground cinnamon
125g unsalted butter
½ cup caster sugar
2 eggs
1 ½ cups plain flour
1 tsp baking powder
Salt
Streusal Crumb:
40g unsalted butter, chilled, diced
1/3 cup plain flour
2 Tbsp caster sugar
Salt
Preheat the oven to 170C. Lightly grease and line a loaf tin with greaseproof paper, allowing an inch overhang on each of the longer sides.
Coat the diced pear pieces with the cinnamon in a small bowl and set aside.
Add the butter and sugar to the bowl of an electric mixer and beat on a medium speed until light and fluffy. Add in one egg at a time, incorporating well after each addition. Add in the flour, baking powder and a small pinch of salt and mix to combine. Remove from the mixer, scrape down the sides and fold in 2/3 of the diced pear. Pour into the prepared loaf tin and use a spatula to make a flat surface.
Next, prepare the streusel crumb by adding all the ingredients to a small mixing bowl. Using your fingers, gently rub the butter cubes into the flour mixture until you form chunks of crumble. Add the remaining pear mixture and gently mix. Crumble the streusel evenly over the top of the batter and place in the oven to bake for 50-55 minutes or until a skewer placed in the centre comes out clean. Leave it to stand for 5 minutes before lifting it out onto a wire rack. Cake can be served warm or cold.
Our friends at Wine Selectors suggest pairing this dish with a Liqueur Topaque.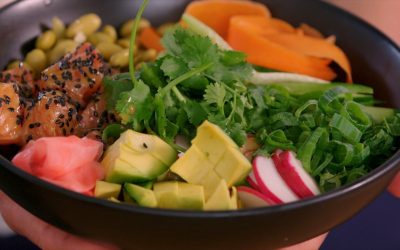 This recipe is brought to you by our friends at Healthy Life.Ingredients: 2 salmon fillets, skin off 1 cup edamame beans, frozen and blanched  1 Lebanese cucumber, sliced thinly 1 carrot, ribboned 1 avocado, diced 1/2 bunch spring onions, sliced 1 cup cooked brown...