Prawn, Pineapple and Haloumi Cheese Skewers
Ben O'Donoghue
The Skewers
Per skewer
1 large king prawn
1 large chunk of fresh pineapple
1 similar chunk of Karridale Maritime Cheese (if not available use Greek Kefalotyri or Haloumi cheese}
Bamboo skewers or if possible thick sticks of rosemary for showmanship
The Salsa
5 large red chillies
1 Kaffir lime
1 large ripe tomato (blanched, peeled, de-seeded and chopped)
1 teaspoon of sugar
1/2 bunch of mint
100ml macadamia nut oil
Peel and de-vein the fresh prawns removing the heads.
Cut the cheese and pineapple into 2 by 3cm chunks trying to use the natural shape of the ingredients (i.e. the pineapple into triangles and the cheese into squares) and thread on to either your bamboo skewers (make sure to soak these first so as they will burn less easily)
On your girdle plate or BBQ char the red chillies, prick them with a knife so they don't explode then remove them to a small bowl and cover with glad wrap or cling film, when cool remove the skin and seeds and pull the flesh into strips. Add to this a little corn oil or peanut oil as these have a subtle flavour and the zest of one lime and its juice and a little sugar to balance the heat and acidity of the lime, the chopped tomato and finally add the chopped mint.
Simply BBQ the skewers ensuring that the prawns are cooked and the pineapple and cheese are slightly charred and hot then just serve with a liberal drizzle of the salsa.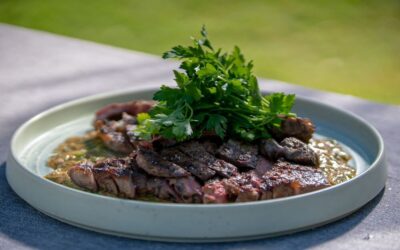 Ingredients: Serves: 2-4 2 x 250g T-bone or Rump steak Sea salt 2 Tbsp Olive oil 2 Tbsp Butter 1 brown onion, diced 2-3 cloves garlic, finely chopped 1 tsp dried chilli flakes 2 tsp dried mixed herbs 40 'twists' cracked black pepper 2 chicken stock cubes, crumbled 2-3...