Sardine and Fennel Pasta
Ben O'Donoghue
Serves 2
200g linguini pasta
1-2 tins of Safcol sardines
1 cup finely diced fennel bulb
1 cup finely diced red onion
¼ cup currents
¼ pine nuts
1 clove garlic finely chopped
1 tablespoon fennel tops
100ml white wine
Extra virgin olive oil
Salt and pepper
Bring a large pot of salted water to the boil to cook your pasta
In a fry-pan, heat 3-4 tablespoons of extra virgin olive oil
Gently fry the chopped red onion and fennel until soft and sweet, season with salt and pepper. Add the chopped garlic and the pine nuts and current and cook until the nuts are golden and the currents are plump and soft. Then turn of the heat
Add the pasta to the boiling water and cook until al dente
Just before the pasta is cooked. Return the fry-pan to the heat and add the sardines and gently fry, add the white wine and half the chopped fennel tops.
When the pasta is perfectly cooked drain and add to the sardine pan and toss well and season
Plate the pasta and then sprinkle with the remaining chopped fennel tops.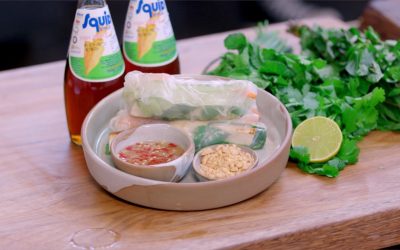 This recipe is brought to you by our friends at Asian InspirationsIngredients:Serves: 8 Prep Time: 10 mins Cook Time: 15 mins Main Ingredients: 1 packet rice paper 150g rice vermicelli noodles 1 bunch coriander 1 bunch Thai basil 1 bunch mint 1 bunch garlic chives 1⁄4...